Yoga App Development Services Company
Achieve your inner peace and improved flexibility.
Webority Technologies is a leading company that offers superior Yoga app development services to meet your business needs. Yoga is more important than just physical exercise – it's a journey of self-discovery, mindfulness, and well-being. As a yoga business owner, you strive to create a welcoming space for your students to explore this transformative practice. Now, with our custom yoga mobile app, you can extend this experience beyond the walls of your studio and reach your students wherever they are.
With the widespread availability of smartphones and tablets, yoga apps have gained immense popularity in recent years. These apps offer users the convenience of practicing yoga anytime, anywhere, eliminating the need for dedicated studio sessions. Whether you are a seasoned yogi or a beginner just starting on your journey, there's a yoga app tailored to meet your needs.

Yoga apps have proven to be an excellent tool for personalizing one's yoga journey. These apps often come equipped with features that allow users to customize their sessions based on their skill level, preferred yoga style, and even time constraints. With just a few taps, you can access a vast library of yoga classes, breathing exercises, and meditation techniques tailored explicitly to suit your unique preferences.

The success of any app lies in its user experience, and yoga apps are no exception. Developers understand the importance of creating a seamless and intuitive interface that makes navigating through the app effortless. The user interface is designed to be visually appealing, ensuring users stay engaged and motivated to continue their yoga practice regularly.
Let's create something great together
gained immense popularity and how they have transformed
Understanding the Significance of Yoga Apps
The recent surge in interest towards mindfulness and wellness has resulted in an increased demand for yoga apps. People are looking for convenient ways to incorporate yoga into their daily routines to reduce stress and boost mental clarity. One of the primary reasons behind the success of yoga apps is the convenience they offer. With just a few taps on their smartphones, users can access a wide range of yoga classes and meditation sessions, anytime and anywhere. A comprehensive yoga app should offer a diverse selection of yoga styles, such as Hatha, Vinyasa, and Ashtanga, catering to practitioners of all skill levels, from beginners to advanced yogis.
Beautiful Apps with World-class UI/UX
Transform Your Yoga Business with a Custom Yoga Mobile App
Connect, Engage, and Inspire Your Yoga Community with Cutting-Edge Mobile Technology
Seamless Class Management
Our app offers a user-friendly interface that simplifies class scheduling, registration, and attendance tracking. Streamline your administrative tasks and focus on what you love – teaching yoga.
Event Management
Organize and promote yoga events, workshops, and retreats through the app.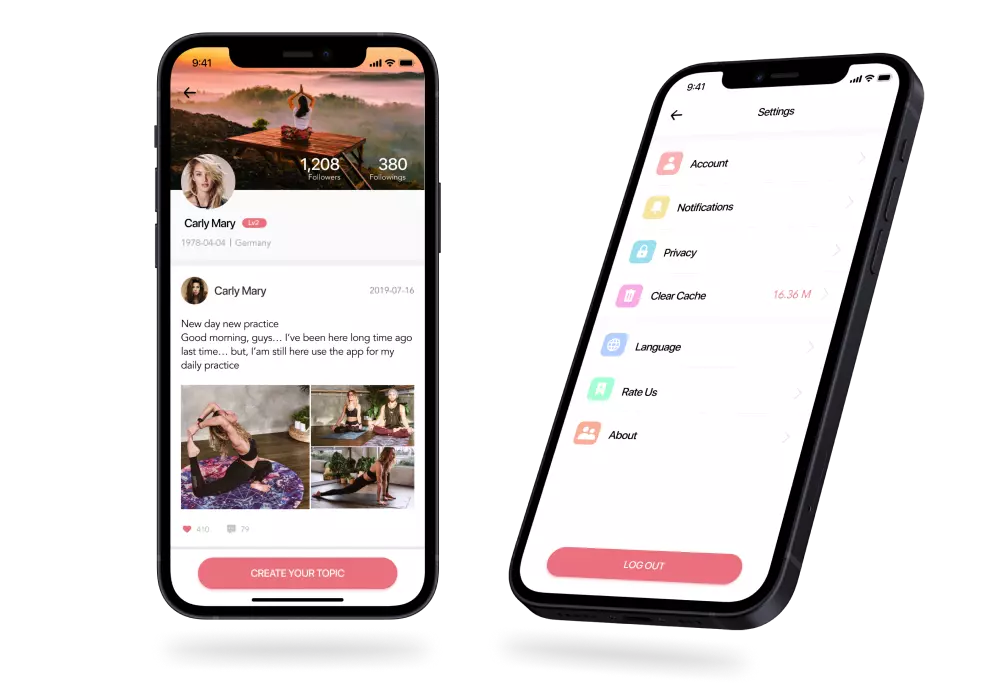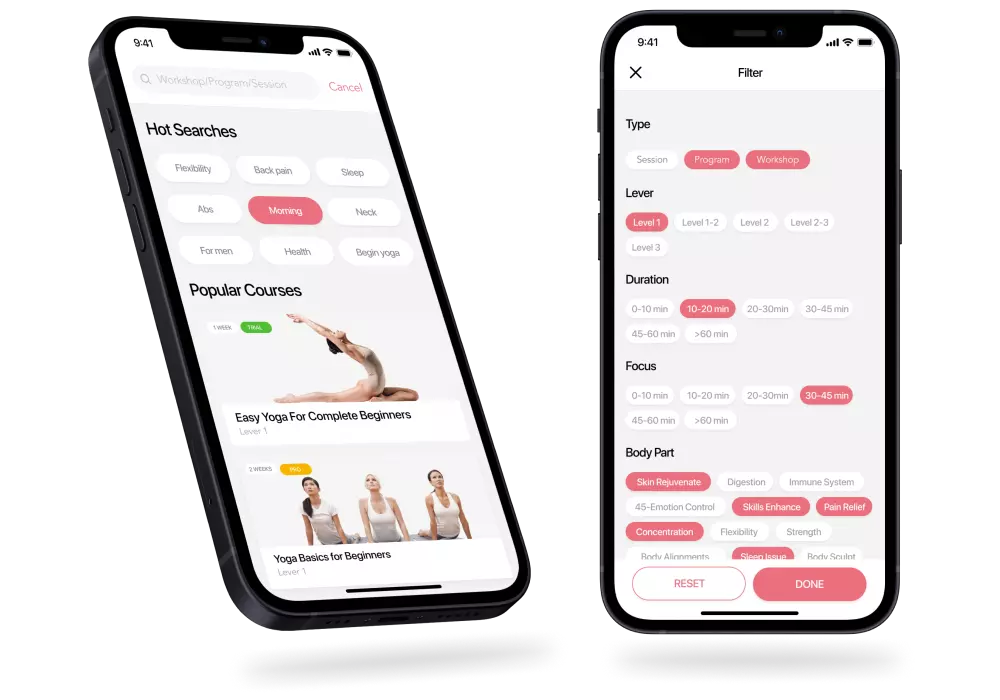 Live Streaming and Virtual Classes
Reach students beyond the boundaries of your physical studio with live streaming and virtual classes.
Personalized Progress Tracking
Empower your students to track their progress and set goals with built-in tools for tracking attendance, recording achievements, and monitoring their yoga journey.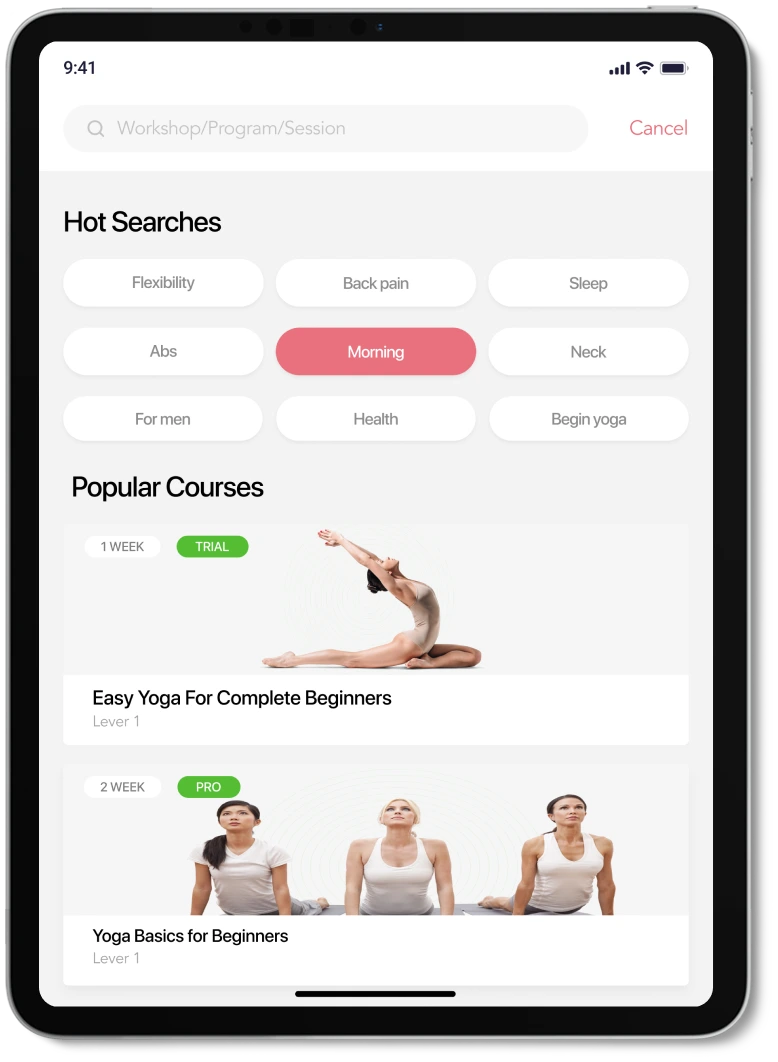 Practice. Connect. Thrive
Connect, Inspire, and Transform Your Yoga Business with a Customized App
Ignite Your Yoga Business with a Custom Mobile App
Community Building Features
Foster a sense of belonging and create a vibrant yoga community by incorporating social features into the app.

Engaging Video Content
Provide your students with on-demand access to a library of high-quality yoga videos, allowing them to practice at their own pace and convenience.

Online Payment Integration
Offer secure and convenient online payment options within the app. Simplify the payment process for your students and streamline your financial operations.

Custom Branding and Design
Our app development services include personalized branding and design options, allowing you to showcase your unique yoga brand identity.
Why Choose Us?
Let us collaborate to create an Yoga app that leaves a lasting impact on physical health. Get in touch with us today and let's begin this exciting journey together!
About us
Webority Technologies
Over 10 years of delivering exceptional IT services globally. We've partnered with diverse clients from startups to large corporations across healthcare, finance, retail, tech and many more. Trust our proven expertise to cater to your unique business needs.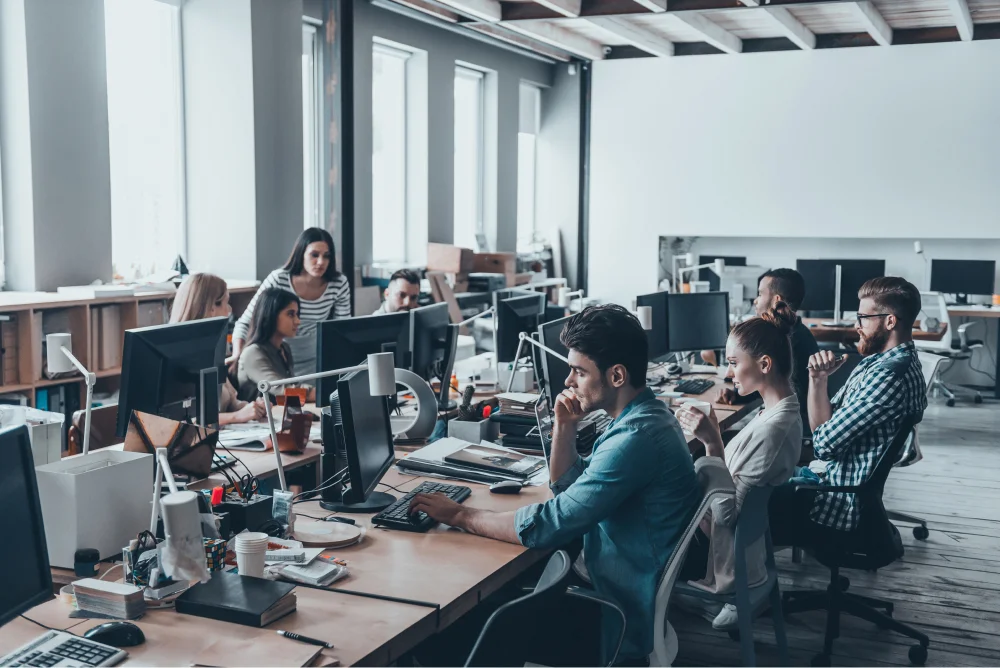 Connect with us today
Work with the Experts.