Unlock Your E-Commerce Potential with Our BigCommerce Development Services
Embark on a transformative journey for your online business with our comprehensive BigCommerce Development Services. Our expertise lies in crafting tailor-made solutions that amplify the potential of your e-commerce venture.
In the realm of customization excellence, we go beyond templates, ensuring your BigCommerce store is a unique reflection of your brand identity. We prioritize seamless integrations, empowering your store with the latest technologies and functionalities, from third-party applications to secure payment gateways. As the mobile commerce landscape continues to evolve, our focus on mobile optimization ensures your BigCommerce store not only captivates desktop users but also seamlessly adapts to the diverse landscape of smartphones and tablets.
Speed is paramount in the digital realm, and our experts fine-tune your store for optimal performance, ensuring swift loading times that keep potential customers engaged and satisfied. Our commitment extends beyond development. Benefit from dedicated support, addressing any issues promptly and ensuring your BigCommerce store operates smoothly, creating a hassle-free experience for both you and your customers.
BigCommerce Development
BigCommerce Development Services
In the ever-evolving landscape of online retail, having a robust and responsive e-commerce platform is non-negotiable. That's where our BigCommerce development services come into play, offering you a tailored solution to elevate your online store to new heights.

Tailored Customization
We craft unique BigCommerce solutions, ensuring your online store stands out with a customized design and features aligned with your brand.

Seamless Integrations
Power your store with the latest functionalities. Our experts seamlessly integrate third-party apps, payment gateways, and tools to enhance the overall user experience.

Mobile-First Approach
Capture the mobile market with responsive designs. We prioritize mobile optimization, ensuring your BigCommerce store performs seamlessly on various devices.

Performance Optimization
Speed matters. We optimize your site for fast loading times, keeping potential customers engaged and satisfied with a smooth browsing experience.

Dedicated Support
Beyond development, we offer ongoing support to address any issues and ensure your BigCommerce store continues to operate at its best.

Scalability
Your business isn't static, and neither should your online store be. We build scalable solutions that can grow with your business, adapting to changing needs and market trends.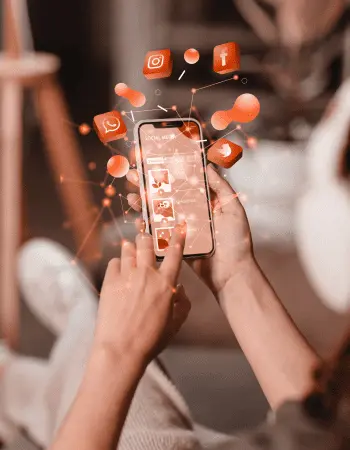 Innovative BigCommerce Solutions: Pioneering Your Online Success
Future-proof your online business with our scalable solutions. We build BigCommerce stores that evolve with your growing needs, adapting to market trends and ensuring sustained success. Transform your e-commerce landscape with our BigCommerce Development Services — where innovation meets efficiency, and your online success is our priority.
Proven Expertise: Our team brings a wealth of experience in BigCommerce development, having successfully transformed numerous online stores into thriving e-commerce businesses.
Client-Centric Approach: We believe in collaboration. Your insights combined with our expertise result in a solution that aligns perfectly with your business goals and customer expectations.

Post-Launch Support: Our commitment doesn't end with the launch. We provide ongoing support to ensure your BigCommerce store continues to evolve and adapt to changing market trends.
We make the creative solutions.
We make the creative solutions.

Customers

Projects

Countries

Awards
Working Methodology
Our Process
Quality assurance and software testing by seasoned and skilled experts
Dedicated professionals on your team guarantee reliable and timely product and service launches
Testimonials
Real People, Real Words
"Like most businesses, we did not see the value of website maintenance until we witnessed how much goes on weekly, quarterly, and annually to ensure our website is running smoothly and error-free. While we are NotOnMap, we didn't want to be NotOnGoogle, and Webority Technologies' maintenance services have surely taken care of that."
"Weddings and parties immediately transport one to beautiful set-ups at a mere mention. While we were busy making our venues flawless, we forgot that our website was the first impression we were creating on our potential clients. We hired Webority Technologies to redo our website, and it looks just as great as our actual work! It's simple and classy. The number of visitors on our website has doubled after the redesign, and we have also achieved a 38% conversion rate." 
"Webority Technologies, unlike most technology firms, did not hand us over an IT solution catalogue to choose from. They focused on understanding our business problems and how they could employ technology to solve them. The solution designed by Webority Technologies has helped us streamline operations, improve efficiency, and increase productivity, giving us room to grow! Besides, we achieved all this without breaking the bank!" 
"Webority Technologies has made our website stand out with its minimalist design. The hues of browns and greys draw the eye, and our call to action and services remain the highlights! The entire website is so well organised in terms of information that it not only draws the reader in but keeps them on the page with relevant information—just what works with law firms!"
"Our website has opened up a whole lot of new avenues for us! It beautifully showcases the expertise and knowledge of our stylists, our products, and our services. Webority Technologies gave us more than a mere online presence. For those who haven't visited our salon in person yet, our website provides the same experience we wish all our customers to have first-hand."
"Most websites in our industry are complicated and daunting—just as our work appears to be. Webority Technologies understood exactly what I needed. We now have a website that is informative, simple, intuitive, responsive, and secure! These days, when one can nearly do everything on financial websites, this is exactly what we needed to make our website exceptional and not just functional."