Stock Trading App Development Services Company
Revolutionize Your Trading Experience with Cutting-Edge Mobile Apps
Webority Technologies is a leading company that offers superior stock trading app development services to meet your business needs. The world of investing has witnessed a remarkable transformation with the rise of stock trading apps. These mobile applications have revolutionized the way people buy, sell, and manage their investments. Investors no longer need to rely on traditional brokerage firms, as stock trading apps have democratized the investment landscape by providing access to the stock market at their fingertips.
With real-time market data, advanced trading features, and seamless portfolio management capabilities, our mobile apps empower traders to make informed decisions, seize opportunities, and stay ahead of the competition. In today's fast-paced trading environment, access to real-time market data is essential.
Our mobile apps deliver up-to-the-minute information on stock prices, market indices, currencies, commodities, and more, ensuring that traders have the most current data at their fingertips. With live charts, customizable watch lists, and detailed financial news updates, our apps keep traders well-informed and equipped to confidently navigate the markets.
With advanced trading features such as instant order placement, one-click trading, and customizable trading interfaces, our apps provide a streamlined trading experience. Traders can execute trades quickly and efficiently, capitalize on market movements, and take advantage of trading opportunities as they arise. Managing and monitoring portfolios is made effortless with our mobile apps.
Additionally, our apps provide comprehensive trade history and performance analytics, allowing traders to evaluate their strategies and make data-driven decisions. One of the key advantages of our mobile apps is the integration of expert insights and analysis. Traders can access research reports, technical analyses, and market commentaries from industry experts directly within the app.
These insights provide valuable perspectives and help traders stay informed about market trends, potential trading opportunities, and risk management strategies.
Let's create something great together
Embrace the Future of Trading
Supercharge Your Trading Business with a Custom Mobile App
In the dynamic world of trading, staying ahead of the competition requires leveraging cutting-edge technology. Are you ready to take your trading business to new heights? Look no further! We specialize in developing custom mobile apps tailored specifically to the unique needs of trading enterprises. With our expertise in mobile app development and a deep understanding of the trading industry, we can help you create a powerful digital presence and revolutionize the way you trade. Why choose a mobile app for your trading business? The answer is simple - convenience, efficiency, and an enhanced trading experience. With a mobile app, you can access real-time market data, execute trades with speed and precision, manage portfolios on the go, and stay informed about market trends, all from the palm of your hand. Seamlessly integrate advanced trading features, analytical tools, and expert insights into your mobile app to gain a competitive edge and make informed trading decisions anytime, anywhere. We understand that each trading business is unique, with its own specific requirements and objectives. That's why we take a personalized approach to mobile app development.
Beautiful Apps with World-class UI/UX
Dynamic Market Data at Your Fingertips
Discover the Finest Features of Our Exceptional App
User-Friendly Interface
Experience a seamless and intuitive user interface designed to enhance your trading experience. Navigate easily through different sections of the app, customize layouts, and personalize settings to suit your preferences.
Notifications and Alerts
Stay informed about important market events and price movements with customizable notifications and alerts. Set up price alerts, news alerts, and trading signals to never miss trading opportunities.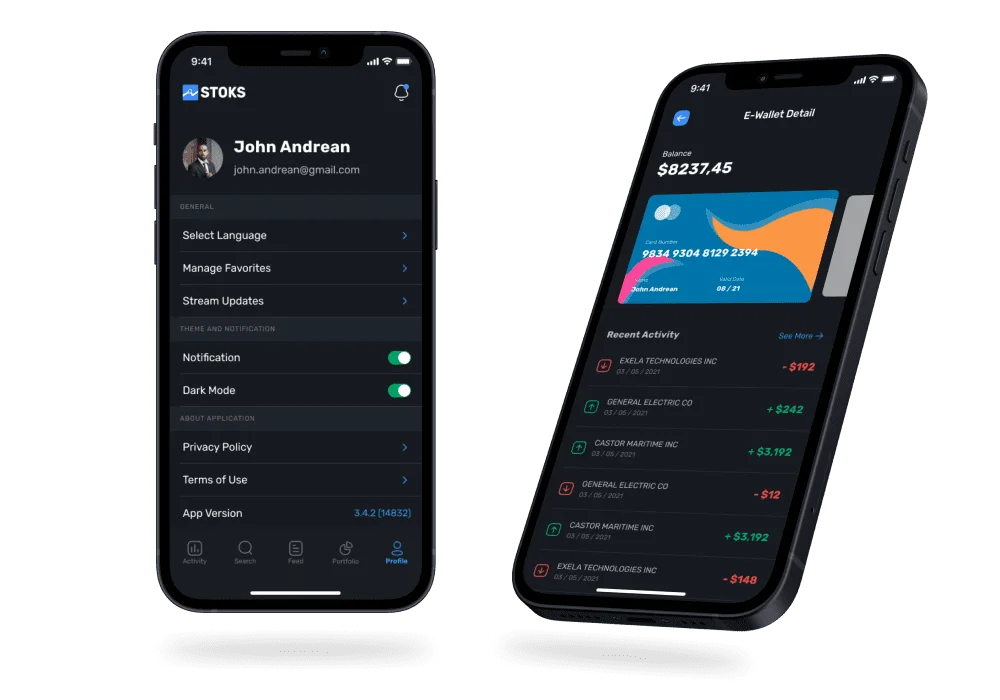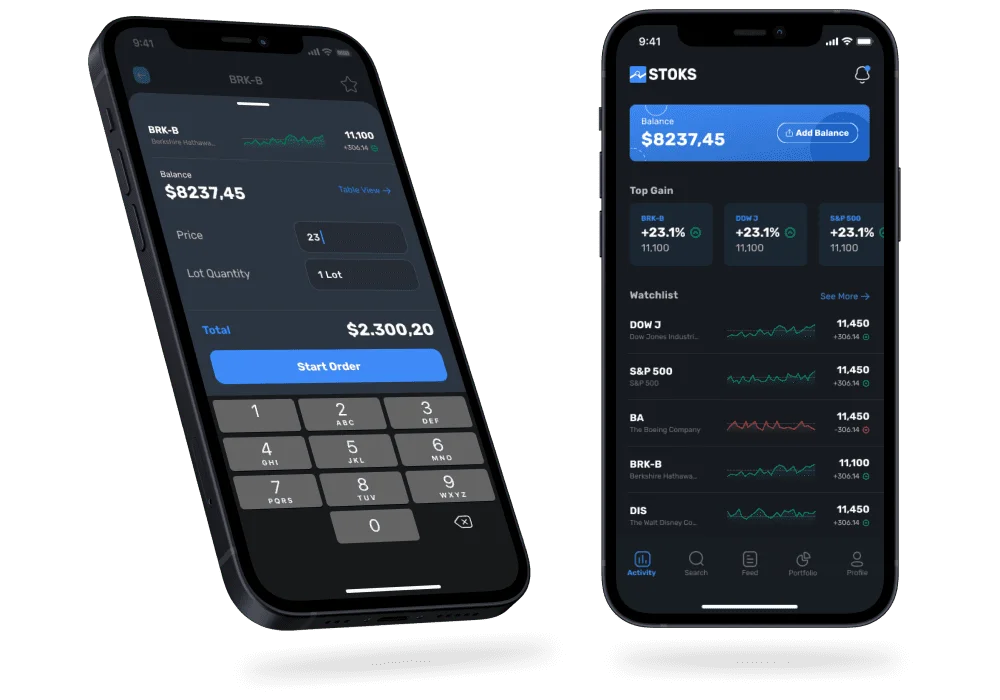 Portfolio Management
Effectively manage your portfolio with comprehensive portfolio tracking and analysis tools. Monitor positions, view account balances, and track performance to evaluate your trading strategies and make data-driven decisions.
Expert Insights and Research
Gain access to in-app market analysis, news updates, and research reports from industry experts. Stay informed about market trends, trading strategies, and economic events to enhance your trading knowledge.
Unleash the Power of Trading Mobile App
Explore the Prime Features of Our App
Convenient Access
Clients can trade anytime, anywhere, eliminating the need for physical presence or reliance on desktop platforms.

Real-Time Updates
Clients receive instant market data, allowing them to make informed decisions based on the latest information.

Enhanced Trading Speed
The app enables quick order execution, reducing delays and increasing the chances of capturing favorable market opportunities.

Security and Privacy
Robust security measures protect client data, transactions, and personal information, instilling confidence and peace of mind.
Why Choose Us?
Choose us for an unparalleled stock trading app development experience with a dedicated team, cutting-edge technology, and personalized solutions. Feel confident in trading with our secure platform and responsive support, making your investment journey seamless and successful.
About us
Webority Technologies
Over 10 years of delivering exceptional IT services globally. We've partnered with diverse clients from startups to large corporations across healthcare, finance, retail, tech and many more. Trust our proven expertise to cater to your unique business needs.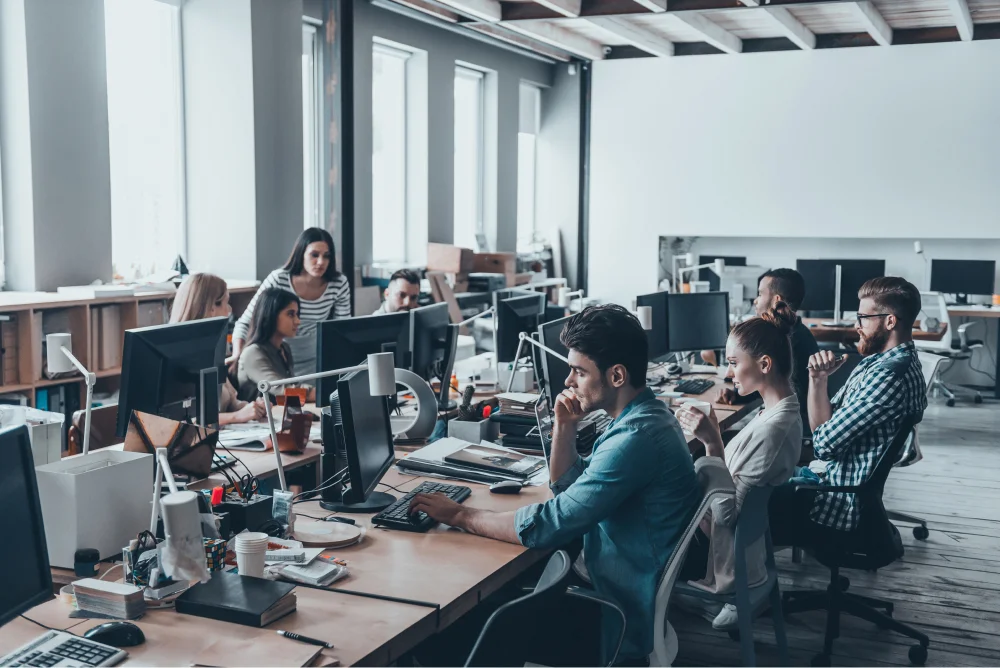 Connect with us today
Work with the Experts.