From Style Statements to Comfort Cravings: Discover the Power of Footwear
Find Your Perfect Fit and Step Up Your Style Game with Our Innovative Shoe Store App
Webority Technologies is a leading company that offers superior Shoe store app development services to meet your business needs. The Shoe Store App Development industry has emerged as a game-changer, catering to the evolving needs of both shoe retailers and customers. With the rising popularity of online shopping and mobile devices becoming an integral part of our lives, having a dedicated shoe store app has become essential for businesses to thrive in the competitive market. 
This rapidly growing industry has revolutionized the way people discover, browse, and purchase footwear, providing unparalleled convenience and a seamless shopping experience.
This not only helps in expanding the customer reach but also enhances brand recognition and fosters customer loyalty. Additionally, a well-designed and user-friendly app can serve as a powerful marketing tool, allowing retailers to showcase their unique selling points, highlight special collections, and create immersive experiences that resonate with their target audience.
The Shoe Store App Development industry plays a pivotal role in meeting the evolving needs of shoe retailers and customers alike. By embracing mobile technology, businesses can unlock a world of opportunities, ensuring seamless shopping experiences, enhanced customer engagement, and accelerated growth.
As the demand for convenience, personalization, and digital innovation continues to rise, investing in a shoe store app has become a strategic imperative for businesses aiming to stay ahead of the curve and succeed in the dynamic world of footwear retail.
Let's create something great together
Sole Satisfaction at Your Fingertips
Your One-Stop Solution for All Your Footwear Needs
Step into the future of footwear retail with our Shoe Mobile App Development services.  Having a dedicated mobile app for your shoe business is essential to stay ahead of the competition and cater to the evolving needs of your customers. Our team of experienced app developers specializes in creating immersive, user-friendly, and feature-rich mobile apps that will elevate your shoe business to new heights.
With our Shoe Mobile App, you can provide your customers with a seamless shopping experience right at their fingertips. From browsing through an extensive collection of shoes to exploring various brands, our app empowers your customers to discover the perfect pair effortlessly. With detailed product descriptions, high-resolution images, and customer reviews, they can make informed purchase decisions, building trust and loyalty.
Our app development services also enable you to leverage the power of personalized recommendations. By analysing customer preferences and purchase history, our app can suggest relevant shoe styles and sizes, making the shopping experience more convenient and tailored to each individual. This level of personalization enhances customer satisfaction and drives repeat business.
Beautiful Apps with World-class UI/UX
Your Path to Effortless Shoe Shopping Starts Here
Unveiling the Game-Changing Features of Our Shoe Mobile App
Extensive Shoe Catalog
Showcase your wide range of shoe styles, brands, and collections within a visually appealing and easy-to-navigate catalog. Allow customers to explore and discover the perfect pair effortlessly.
Personalized Recommendations
Utilize customer data and purchase history to offer personalized shoe recommendations. Help customers find shoes that align with their preferences and increase the chances of making a successful purchase.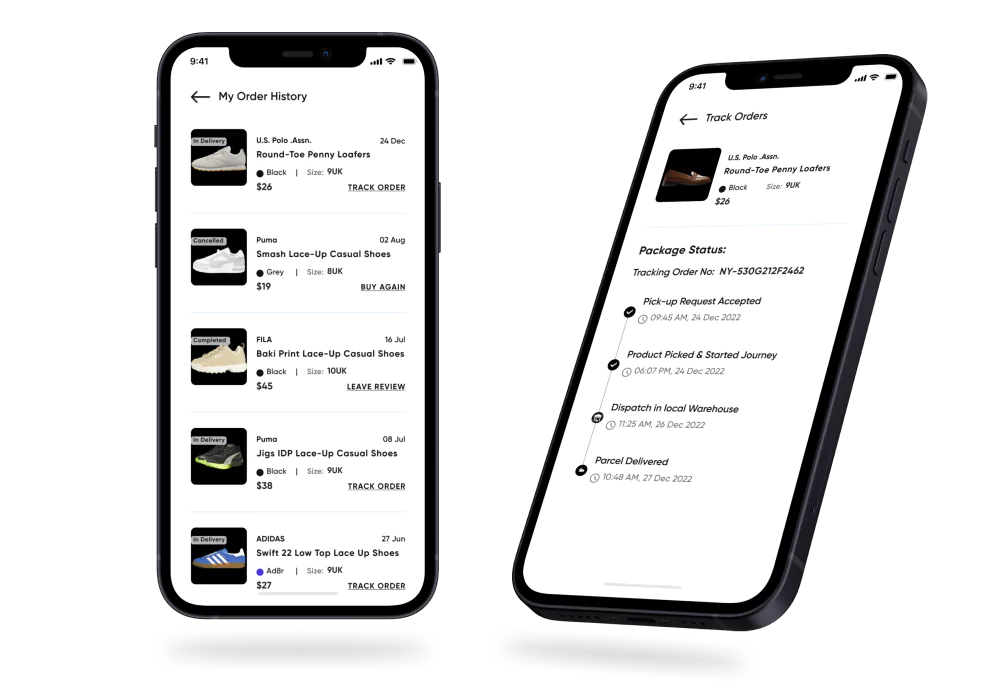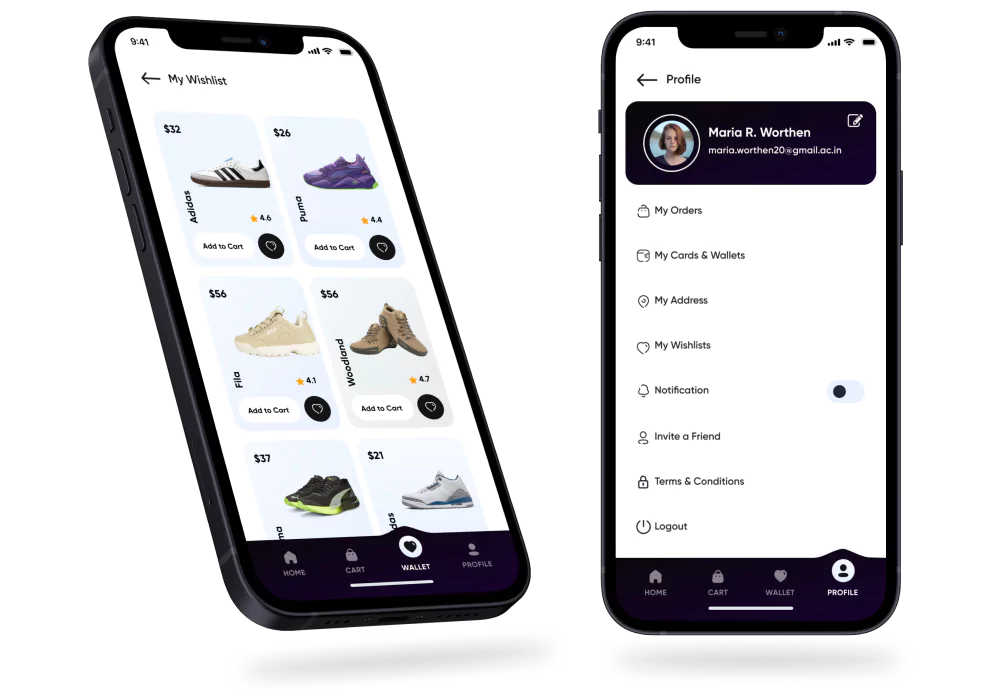 Order Tracking and Notifications
Stay updated on the status of your orders with real-time tracking and receive notifications regarding order updates, shipment details, and estimated delivery times, ensuring transparency and convenience.
Easy Ordering and Secure Payments
Seamlessly place orders within the app with a user-friendly interface, and enjoy secure payment options that safeguard your financial information, ensuring a safe and convenient shopping experience.
Game-Changing Features for Success
Explore the Cutting-Edge Features That Drive Client Satisfaction and Business Growth
Brand Differentiation
The app allows the app owner to showcase their unique value proposition, brand story, and curated shoe collections, setting them apart from competitors in the market.

Marketing and Promotional Opportunities
The app owner can leverage the app to run targeted marketing campaigns, offer exclusive promotions, and collaborate with influencers or industry partners, driving customer acquisition and sales.

Scalability and Growth Potential
A successful shoe app can pave the way for business expansion, including launching new product categories, entering new markets, or scaling up operations based on customer demand and app performance.

Enhanced Customer Engagement
The app allows for direct and personalized communication with customers, fostering stronger relationships and loyalty through push notifications, targeted promotions, and personalized recommendations.
Why Choose Us?
Let us collaborate to create an Shoe store app that leaves a lasting impact on Industry. Get in touch with us today and let's begin this exciting journey together!
About us
Webority Technologies
Over 10 years of delivering exceptional IT services globally. We've partnered with diverse clients from startups to large corporations across healthcare, finance, retail, tech and many more. Trust our proven expertise to cater to your unique business needs.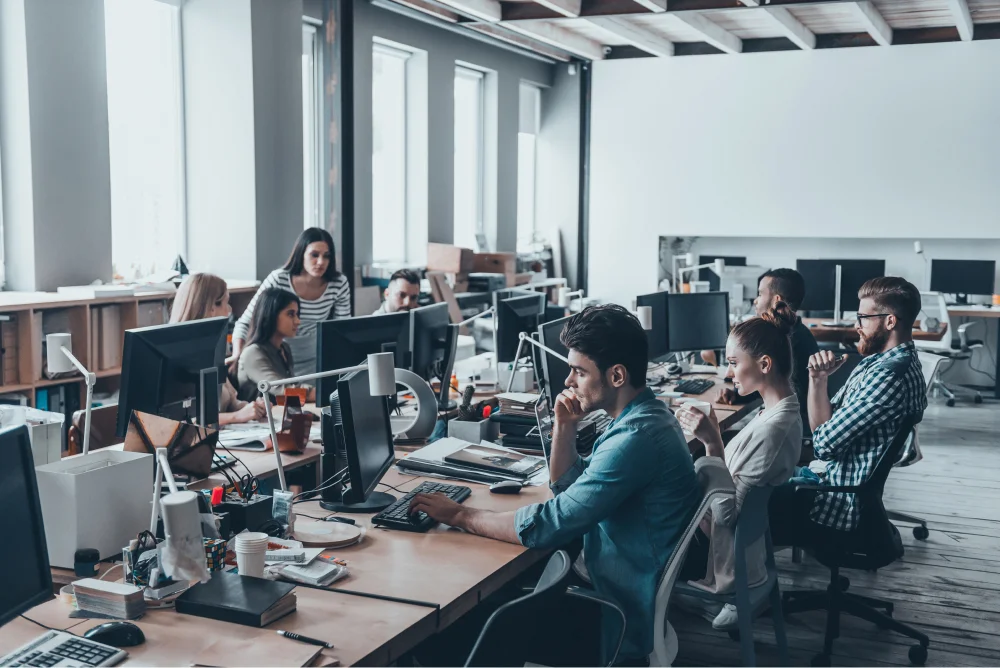 Connect with us today
Work with the Experts.