Poetry App Development Services Company
Experience the Joy of Poetry Anywhere, Anytime
Webority Technologies is a leading company that offers superior poetry app development services to meet your business needs. In a world bustling with technology and constant distractions, the power of poetry remains steadfast, capturing the essence of human emotions and experiences in words that resonate deep within our souls. The poetry industry has flourished as a sanctuary for creative expression, a haven where hearts pour out their joys, sorrows, and everything in between.
Welcome to our Poetry App Development Services Company! We are your partners in bringing the world of verses to the digital realm.
At our company, we specialize in creating captivating and user-friendly poetry apps that cater to both seasoned poets and aspiring writers. Our expert team of developers, designers, and poets collaborate to craft an immersive platform where creativity knows no bounds.
Our poetry apps are designed to provide a seamless experience, allowing users to read, write, and share their poems effortlessly. With a user-centric approach, we offer features such as personalized profiles, interactive writing prompts, a vast collection of poetic styles, and the ability to connect with fellow poets.
Whether you're a poetry enthusiast aiming to explore a universe of emotions, a writer seeking a platform to showcase your talent, or a business looking to engage customers through artistic means, our Poetry App Development Services Company has you covered.
Join us in revolutionizing the way poetry is experienced. Let's transform words into emotions, and verses into a digital symphony. Experience the power of poetry in the palm of your hand.
Let's create something great together
Embrace the World of Poems with Our App
Discover Our All-in-One Poem App
We specialize in creating high-impact mobile applications specifically designed to elevate your brand, expand your reach, and engage your audience like never before. Our team of expert developers and designers are passionate about crafting innovative solutions that seamlessly blend technology with the art of poetry. Why settle for ordinary when your poetry deserves extraordinary? We go beyond the conventional boundaries of mobile app development to create a stunning and immersive experience for your users. From captivating design elements to intuitive navigation, we ensure that every aspect of your mobile app reflects the beauty and power of your poetic expression. we prioritize your unique vision and business goals.
Beautiful Apps with World-class UI/UX
Elevate Your Poetry Experience Today!
Experience Poetry Like Never Before with Our Exceptional Mobile App
Personalized Recommendations
Receive personalized poetry recommendations based on your reading preferences and interests. Our app's intelligent algorithm analyses your reading history and suggests poems and poets that align with your taste, ensuring a tailored and delightful experience.
Audio and Visual Enhancements
Immerse yourself in the poetic experience with audio and visual enhancements. Enjoy the option to listen to beautifully narrated poems, set the mood with background music, and appreciate stunning visual imagery that enhances the emotional impact of each poem.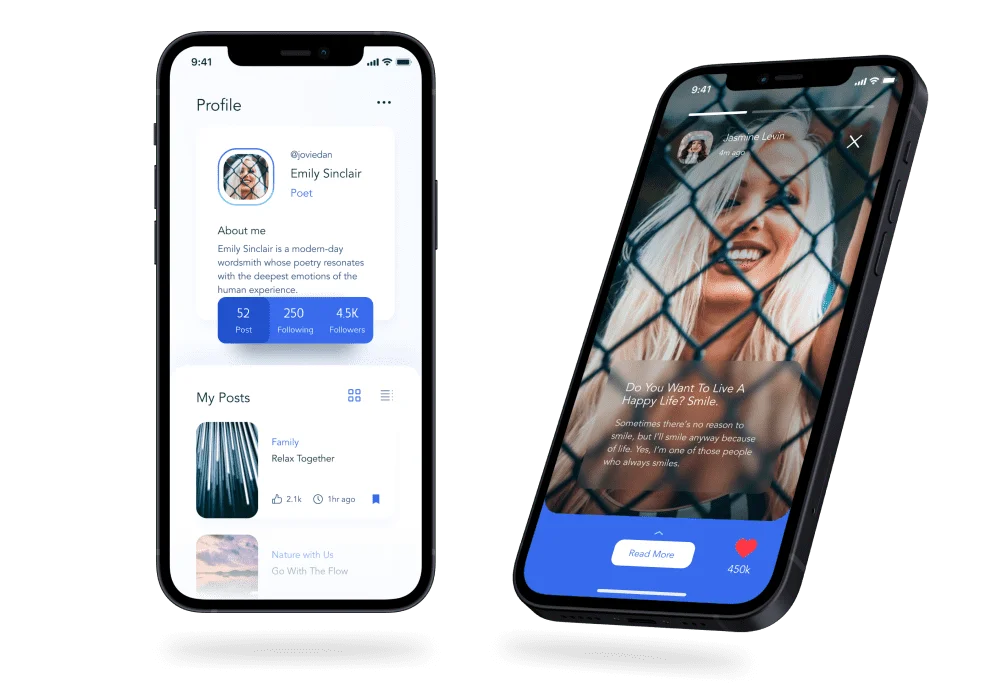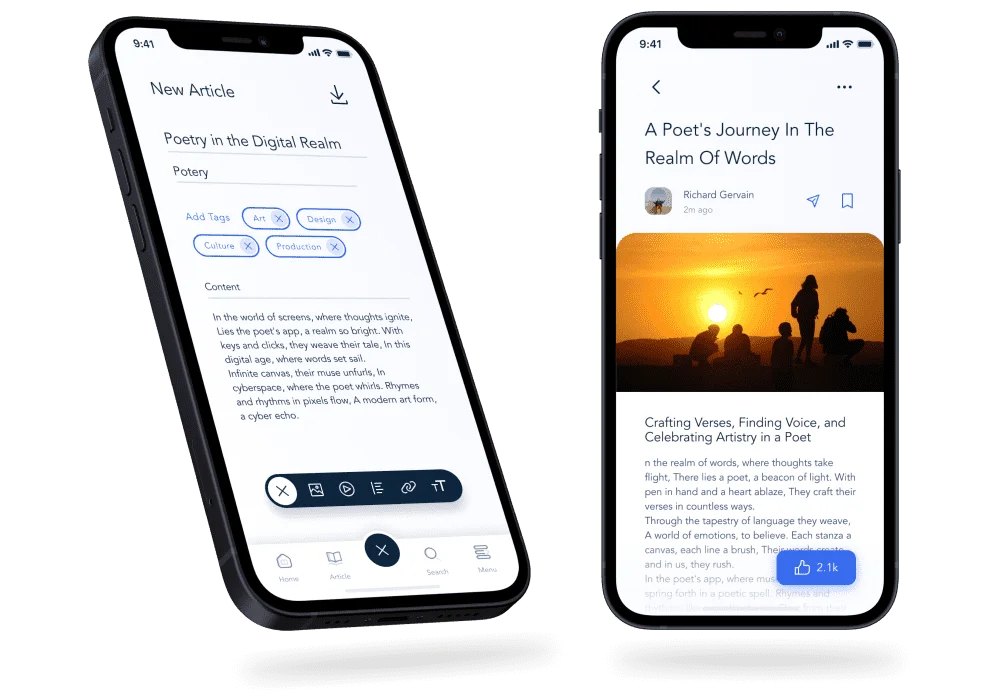 Save and Bookmark
Save and bookmark your favourite poems for quick access and revisit them whenever inspiration strikes. Create a personalized poetry collection that reflects your unique taste and curate a library of treasured verses.
Create and Publish Your Poetry
Unleash your creativity and compose your own poetic masterpieces within the app. Seamlessly write, edit, and refine your poems using intuitive writing tools. Once ready, publish your work and share it with the community, receiving feedback and appreciation for your artistry.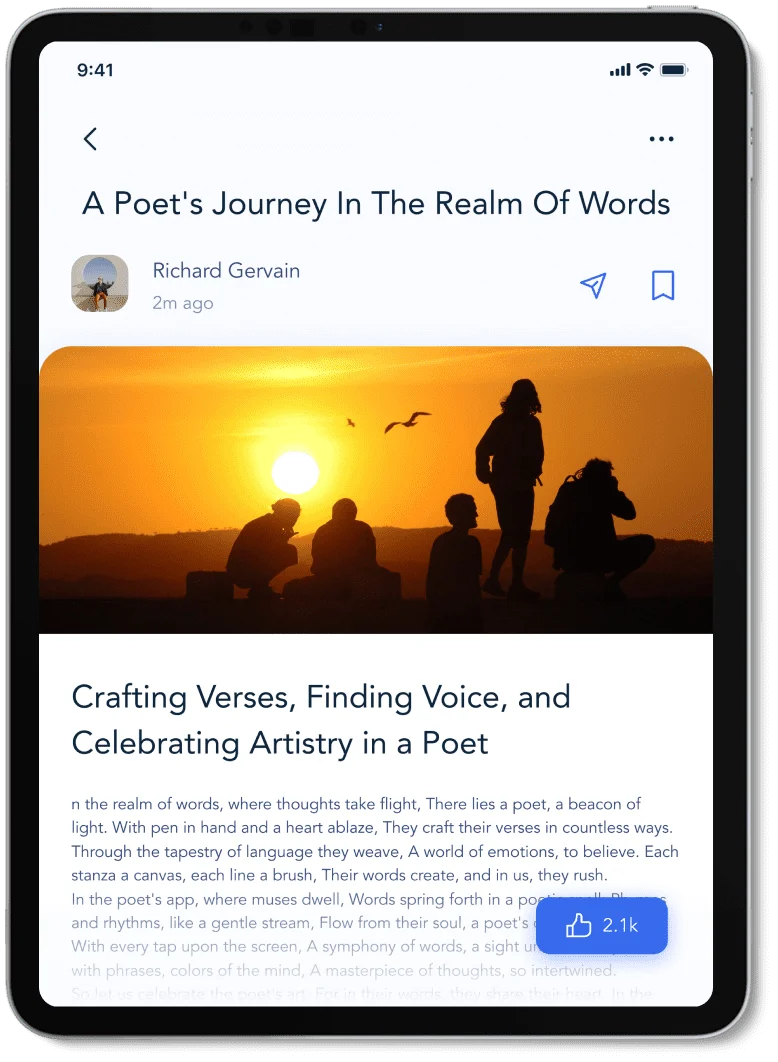 Unlock the World of Poetry
Experience the Transformative Benefits of Poetry on-the-go
Empower Your Poetic Journey with Our App
Increased User Engagement
The interactive features of a poetry mobile app, such as personalized recommendations, collaborative writing, and community interactions, enhance user engagement. Users can actively participate, share their thoughts, and connect with like-minded individuals, fostering a sense of belonging and loyalty.

Broadened Audience Reach
By making your poetry available on a mobile app, you can reach a wider audience beyond geographical boundaries. Poetry enthusiasts from around the world can discover, read, and appreciate your work, expanding your reach and attracting new followers.

Competitive Advantage
By embracing a mobile app for your poetry business, you gain a competitive edge in the industry. It showcases your commitment to innovation, sets you apart from competitors, and positions you as a leader in the digital landscape of poetry.

Personalized User Experience
Tailoring the app to individual users' preferences and interests enhances the overall user experience. Through personalized recommendations, bookmarking, and customized notifications, users feel a deeper connection to your poetry and receive content that resonates with their unique tastes.
Why Choose Us?
Choose us for your poetry app development needs, and embark on a journey to create a poetic digital haven that resonates with users worldwide.
About us
Webority Technologies
Over 10 years of delivering exceptional IT services globally. We've partnered with diverse clients from startups to large corporations across healthcare, finance, retail, tech and many more. Trust our proven expertise to cater to your unique business needs.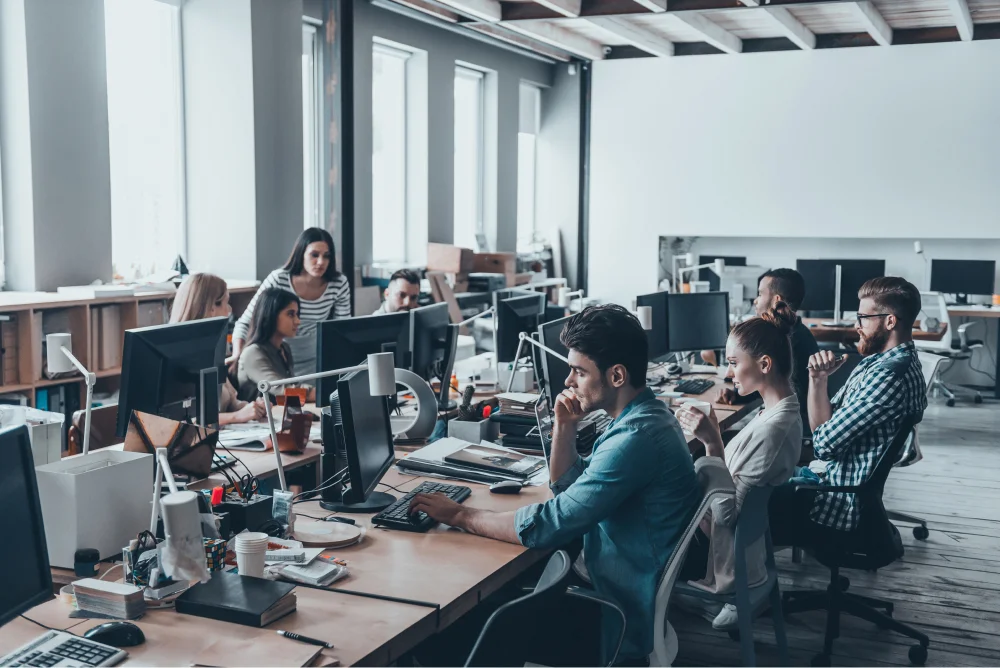 Connect with us today
Work with the Experts.