Pet Store App Development Company
The Ultimate App for Pet Lovers and Owners
Webority Technologies is a leading company that offers superior pet store app development services to meet your business needs. In the vibrant world of pet stores, the bond between humans and their beloved animal companions is celebrated. As pet ownership continues to grow, so does the need for convenient and comprehensive solutions in the pet store industry.
To meet the evolving demands of pet owners and provide an exceptional shopping experience, embracing technology has become crucial. Enter the realm of pet store mobile apps – a game-changer that brings together the convenience of digital platforms and the personalized touch of pet care.
Pet store app development has transformed the pet care industry, offering pet owners and businesses innovative solutions to cater to their furry companions. This article delves into the world of pet store app development, uncovering its key features, benefits, and the pivotal role it plays in enhancing the lives of pets and their owners. 
With a pet store mobile app, pet owners gain access to a wide range of products, services, and information, right at their fingertips. From pet food and accessories to grooming services and veterinary care, the app streamlines the process of finding, purchasing, and managing all things pet-related.
With features like intuitive navigation, personalized recommendations, online ordering, appointment scheduling, and loyalty programs, the app revolutionizes the way pet owners interact with their favorite stores.
For pet store owners, investing in a mobile app offers a myriad of benefits, including increased customer engagement, improved brand loyalty, expanded market reach, and a competitive edge in the bustling pet industry.
Step into the future of pet retail with our cutting-edge pet store mobile app development solutions and unleash the true potential of your business.
Let's create something great together
Transforming the Way Pet Owners Shop and Interact with Your Store
Enhancing Pet Care With Innovative Pet Store App Development
In recent years, the pet care industry has witnessed a digital revolution through the advent of pet store apps. These applications are designed to streamline various aspects of pet care, from purchasing pet supplies to scheduling veterinary appointments. As pet owners become more tech-savvy and seek convenience in managing their pets' needs, the demand for pet store app development has skyrocketed. Let's explore the fascinating ways in which pet store apps are reshaping the pet care landscape. Transform Your Pet Store Experience with a Custom App development. With our app, pet owners can easily explore your extensive range of products, from nutritious pet food to interactive toys and stylish accessories, making purchases with just a few taps. Simplify appointment booking for pet grooming and veterinary services, while offering personalized recommendations based on pet breeds and preferences. Integrated loyalty programs and real-time notifications keep customers engaged and informed.
Beautiful Apps with World-class UI/UX
Pet Paradise at Your Fingertips
Shop Smarter for Your Furry Friend
Appointment Booking
Simplify the process of scheduling appointments for grooming, veterinary services, training sessions, and other specialized pet care services. Allow customers to choose preferred dates and times, reducing waiting times and ensuring efficient service delivery.
Pet Profile Management
Provide pet owners with the ability to create and manage profiles for their beloved pets. Include essential information such as breed, age, and medical history to offer personalized recommendations and tailored pet care advice.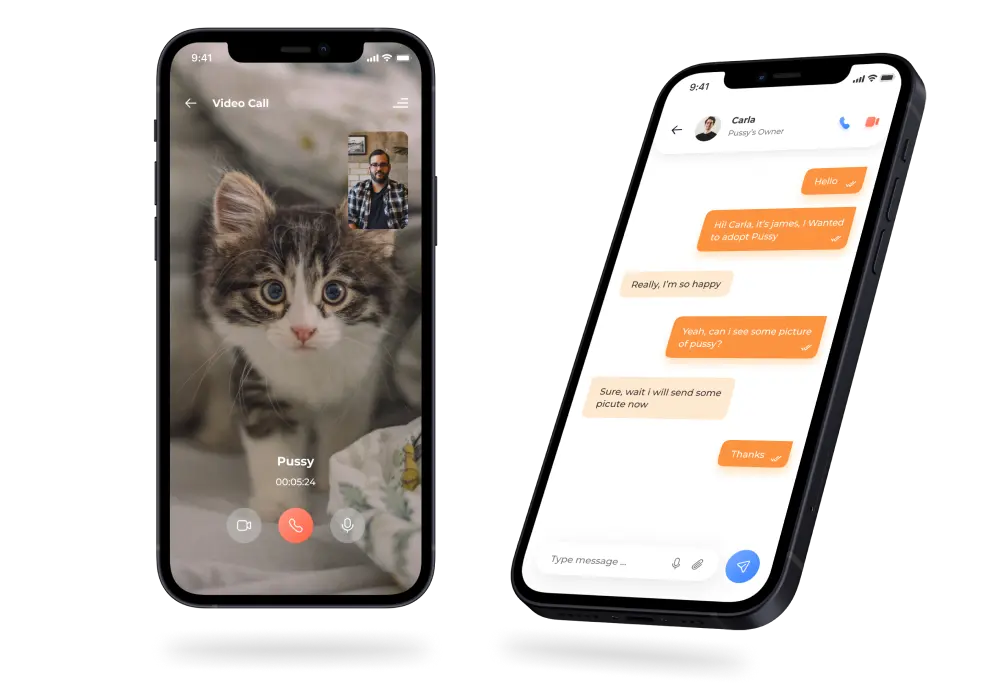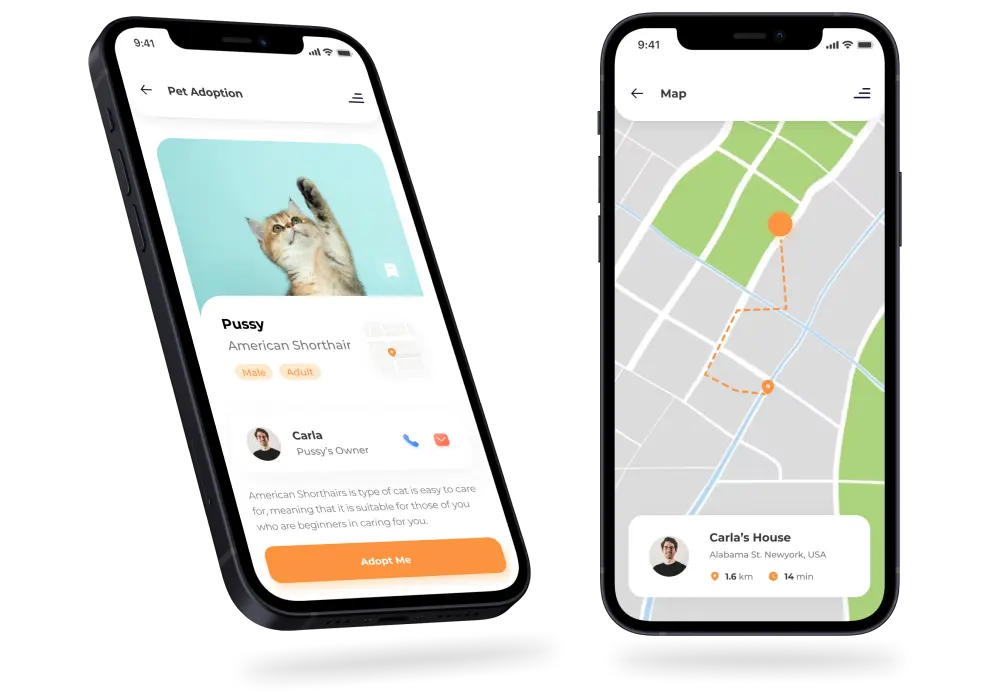 Pet Health Records
Allow pet owners to store and access important health records, vaccination history, and medication details within the app. This feature ensures easy retrieval of vital information during veterinary visits or emergencies.
Pet Training Resources
Offer access to a library of pet training guides, videos, and resources. Help pet owners educate themselves on proper training techniques, behavior management, and tips for a well-behaved and happy pet.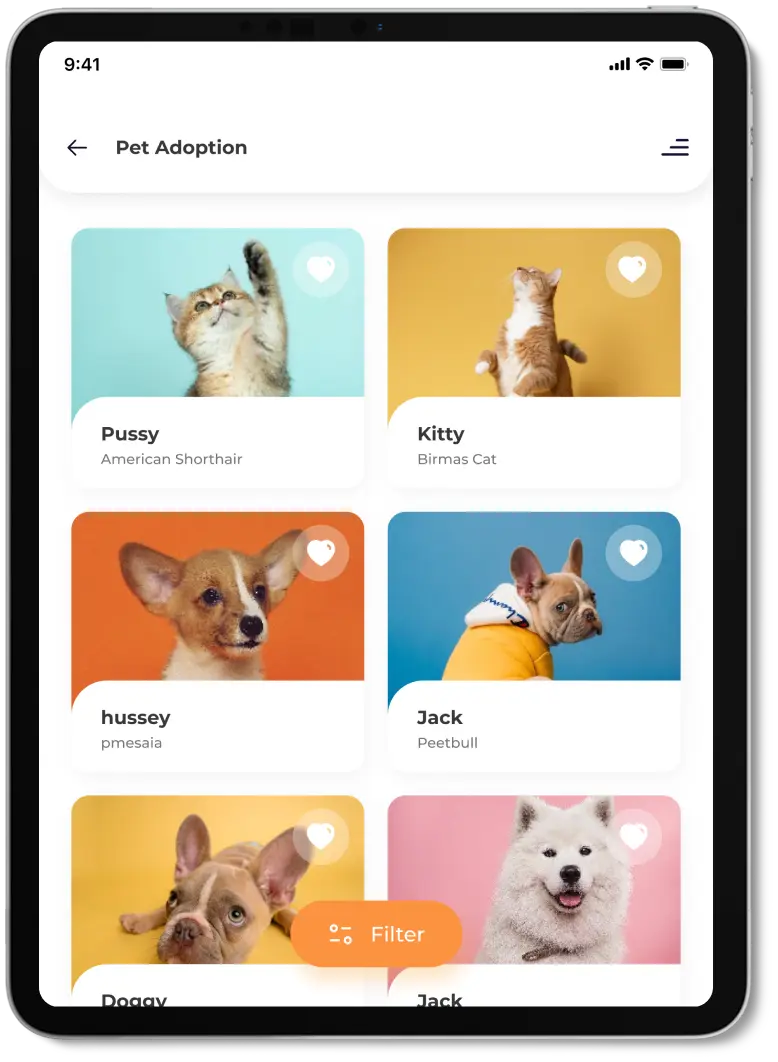 Pet Haven: Love, Play, Repeat
Shop for Pet Essentials
Embrace the Digital Pet Industry
Competitive Advantage
By embracing mobile technology and offering a convenient, feature-rich app, you gain a competitive edge in the pet store industry, positioning your business as modern, innovative, and customer-focused.

Personalized Shopping Experience
By leveraging customer profiles and purchase history, the app can provide personalized product recommendations and offers, enhancing the shopping experience and increasing customer satisfaction.

Stronger Customer Loyalty
Loyalty programs, push notifications, and exclusive discounts offered through the app incentivize repeat purchases, fostering long-term customer loyalty and retention.

Improved Customer Convenience
A mobile app provides convenience to customers by offering easy and anytime access to pet products, services, and information, eliminating the need for them to visit the store physically.
Why Choose Us?
With our proficiency in pet store app development, we assure you a tailored, user-friendly, and secure solution that propels your pet business forward.
About us
Webority Technologies
Over 10 years of delivering exceptional IT services globally. We've partnered with diverse clients from startups to large corporations across healthcare, finance, retail, tech and many more. Trust our proven expertise to cater to your unique business needs.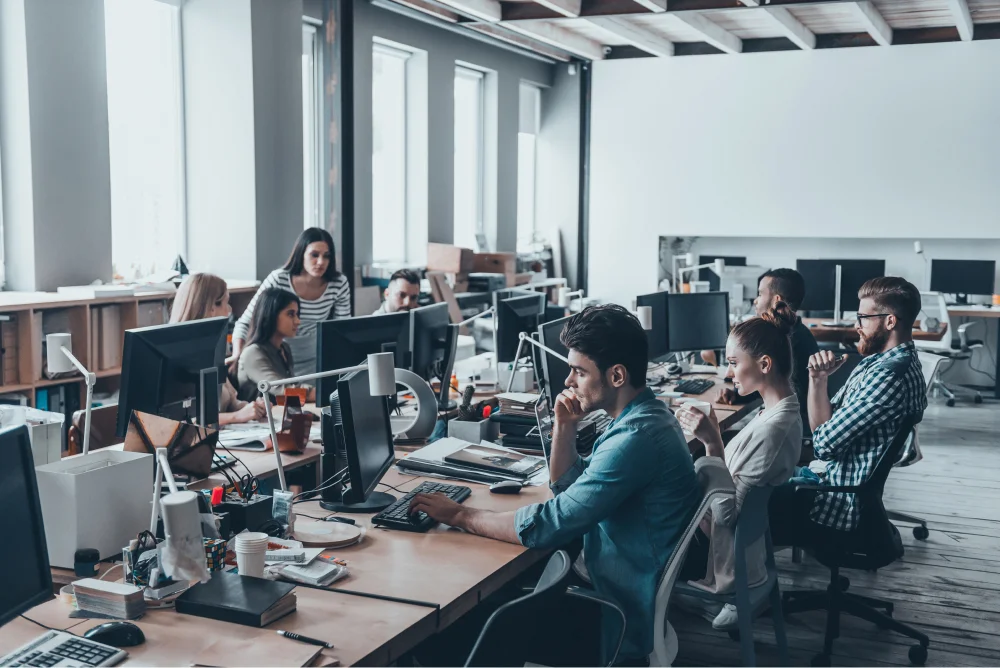 Connect with us today
Work with the Experts.