Notes Made Simple: Streamline, Organize, and Elevate Your Thoughts
Unleash Your Ideas and Ignite Creativity with Your Note Making App
Are you tired of scattered thoughts and forgotten ideas? Look no further, because our note-making platform is here to revolutionize the way you capture and organize your thoughts. Seamlessly blending simplicity with powerful features, our platform is designed to be your ultimate companion on the journey of creativity and productivity. With our intuitive interface, taking notes becomes a breeze. Whether you're attending a lecture, brainstorming ideas, or jotting down important reminders, our platform provides a clutter-free environment where your thoughts can flow freely.
No more fumbling with pen and paper or struggling to keep track of loose notes. With just a few clicks, you can effortlessly create, edit, and organize your notes, ensuring that no idea is left behind. But we don't stop at just basic note-taking. Our platform offers a range of advanced features to enhance your productivity. Tagging and categorization allow you to quickly find relevant notes, even amidst a vast collection. Seamless synchronization across devices ensures that your notes are accessible wherever you go, whether it's on your laptop, tablet, or smartphone. And with secure cloud storage, you never have to worry about losing your valuable insights. Collaboration is at the heart of our platform. Share your notes with colleagues, classmates, or friends, fostering teamwork and sparking new ideas. Comment and discuss within the platform, bringing conversations right to the notes themselves. Our platform is your collaborative workspace, connecting minds and propelling creativity to new heights. We understand that organization is key to unleashing the true potential of your notes. That's why our platform offers customizable folders, tags, and search functionality, ensuring that your notes are neatly organized and easily retrievable. Say goodbye to the frustration of sifting through piles of paper or endless scrolling through digital files. Our intelligent organization features bring order to your notes effortlessly. Security is of utmost importance to us. Rest assured that your notes are protected with robust encryption and privacy controls. Your ideas remain yours alone, with the peace of mind that your data is safe and secure. Ready to embark on a note-taking revolution? Join us on our platform and experience a world where ideas come to life, where productivity soars, and where creativity knows no bounds. Embrace the power of our note-making paradise and watch your thoughts transform into tangible achievements.
Let's create something great together
WORK WITH EXPERTS
Unleash the Potential of Your Ideas: Effortless Note Making App!
Experience the perfect blend of simplicity and productivity with our innovative note-making platform. Bid farewell to scattered thoughts and embrace a new level of organization and inspiration. Designed with your needs in mind, our platform offers a seamless note-taking experience that will empower your creativity and enhance your efficiency. Capture your ideas effortlessly, anytime, anywhere. Whether you're attending a lecture, brainstorming a project, or simply jotting down your thoughts, our intuitive interface ensures that the process is smooth and hassle-free. With just a few taps, you can transform your ideas into beautifully crafted notes that are ready to be explored and expanded upon.
Beautiful Apps with World-class UI/UX
INTUITIVE FEATURES FOR SEAMLESS NOTE-MAKING
Powerful Features for Unleashing Your Note-Making Potential
Intuitive Interface
Our user-friendly interface ensures a seamless note-taking experience, allowing you to effortlessly capture and organize your thoughts without any learning curve or confusion.
Collaborative Capabilities
Foster collaboration and synergy by effortlessly sharing and working on notes with colleagues and friends, facilitating brainstorming, feedback, and knowledge exchange.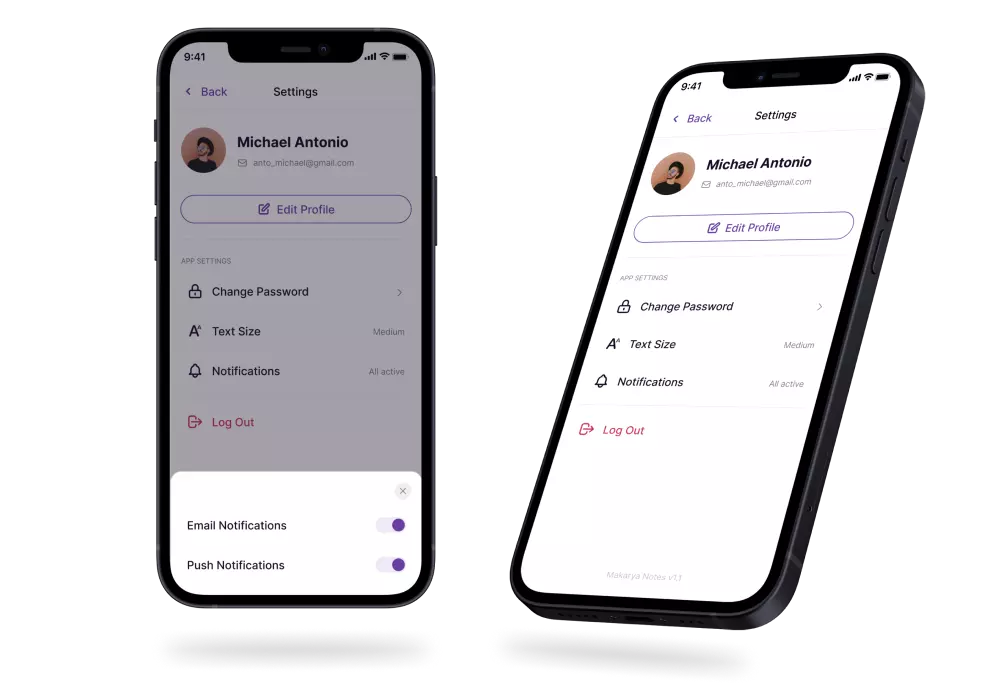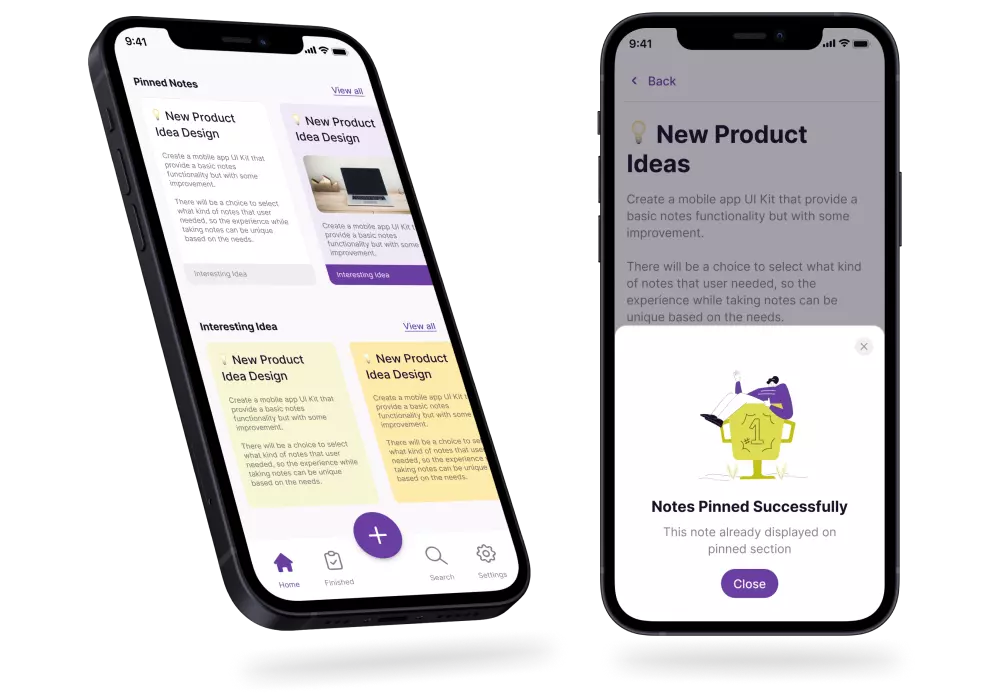 Highlighting and Annotation
Emphasize essential points and add annotations to your notes, allowing for better understanding, organization, and revision of crucial details.
Secure Cloud Storage
Safeguard your notes with encrypted cloud storage, ensuring that your valuable data remains protected, backed up, and accessible across multiple devices, even if you lose or upgrade your device.
USER FRIENDLY EXPERIENCE
Unmatched Benefits of Our Note-Making App

Secure and Backup
Rest assured that your notes are secure with our app's data encryption and backup capabilities. Your valuable information is protected, and you can easily restore your notes in case of device loss or data corruption.

Enhanced Focus and Clarity
By digitizing your notes and decluttering your workspace, our app helps you focus on the content at hand, improving clarity and reducing distractions for a more effective note-taking experience.

Effortless Syncing
Seamlessly synchronize your notes across devices, ensuring that your notes are up to date and accessible from any device. Start a note on your laptop, edit it on your phone, and finalize it on your tablet without missing a beat.

Accessibility Anywhere
With our mobile app, your notes are available at your fingertips wherever you go. Access and edit your notes on your smartphone or tablet, ensuring you never miss an important detail, even on the go.
About us
Webority Technologies
Over 10 years of delivering exceptional IT services globally. We've partnered with diverse clients from startups to large corporations across healthcare, finance, retail, tech and many more. Trust our proven expertise to cater to your unique business needs.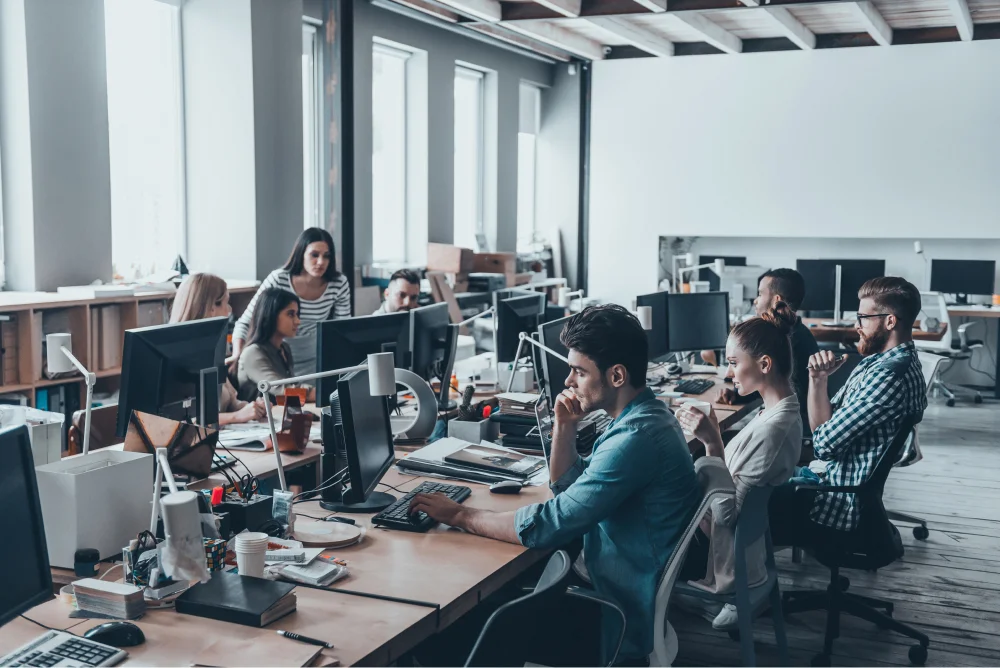 Connect with us today
Work with the Experts.