Laundry App Development Services Company
Transform Your Laundry Business with a Cutting-Edge
Webority Technologies, a leading laundry app development services company, offers superior laundry app development services to meet your business needs. In this fast-paced world, where time is of the essence, the mundane task of doing laundry can be a burden. However, thanks to the advancement of technology, laundry app development companies have emerged, revolutionizing the way we handle our laundry needs.
At Webority Technologies, we understand the unique challenges faced by laundry businesses in this digital age.
Our tailored laundry mobile app solutions are designed to address these challenges head-on and provide you with a competitive edge. By embracing technology and integrating it into your laundry operations, you can transform your business into a seamless and efficient operation.
One of the key benefits of our laundry mobile app solutions is the ability to streamline operations. With our app, you can automate various aspects of your laundry business, eliminating manual errors and saving precious time.
From easy booking and scheduling to automated order management and optimized routes for pick-up and delivery, our app simplifies and streamlines the entire laundry process. 
This not only increases operational efficiency but also allows you to handle a larger volume of orders with ease.
Furthermore, our mobile app enhances the customer experience in numerous ways. With just a few taps on their smartphones, customers can conveniently schedule pick-ups, choose specific services, and track the progress of their laundry in real-time. This level of transparency and control not only saves customers time but also builds trust and loyalty.
Additionally, our app integrates secure payment gateways, allowing customers to make payments directly through the app using various methods such as credit/debit cards, digital wallets, or cash on delivery. This seamless payment process ensures a hassle-free experience for your customers, further enhancing their satisfaction and loyalty.
Let's create something great together
PROPEL YOUR BUSINESS
The Rise of Laundry App Development Companies
The laundry app development industry has witnessed exponential growth in recent years. The increasing demand for on-demand services, coupled with the growing smartphone user base, has paved the way for laundry app development companies to thrive. These companies leverage the power of technology to offer tailored solutions that cater to the specific needs of users, making laundry services more accessible than ever before.

Laundry apps operate on a straightforward yet efficient process. Users download the app and create an account. They can then schedule laundry pickups according to their convenience. Once the pickup is scheduled, the app assigns a nearby partner laundry service to collect the clothes. The laundry is then professionally cleaned, ironed, and packaged as per the user's preferences. Finally, the freshly laundered clothes are delivered back to the user's doorstep, all through a few taps on their mobile devices.
Beautiful Apps with World-class UI/UX
Intuitive Features for Excellent Laundry Services
Empower Your Laundry Business with Technology
Easy Booking and Scheduling
Our mobile app allows your customers to effortlessly schedule and manage laundry services. With just a few taps, they can select pick-up and drop-off times, choose specific services, and even track the progress of their laundry in real-time.
Secure Payment Integration
Simplify transactions and offer your customers a hassle-free payment experience. Our app integrates secure payment gateways, allowing users to make payments directly through the app using various methods such as credit/debit cards, digital wallets, or even cash on delivery.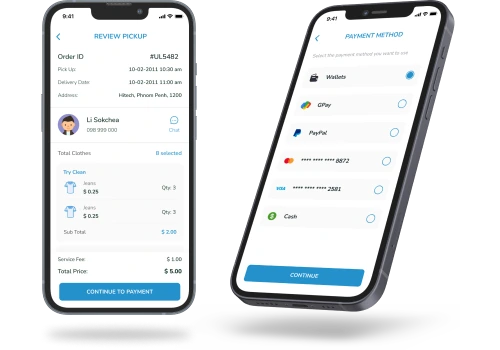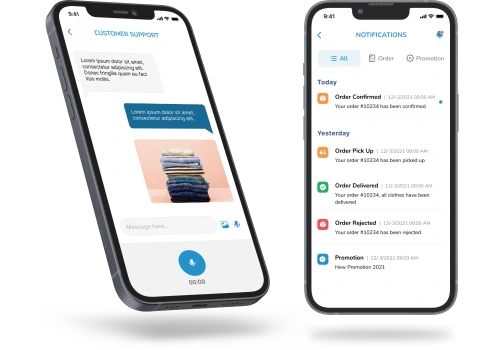 Real-Time Order Tracking
Keep your customers informed and engaged throughout the laundry process. Our app enables users to track the status of their orders, from pick-up to delivery, ensuring transparency and building trust.
Customized Pricing and Offers
Tailor your pricing and promotional offers to meet your business requirements. With our app, you can easily set pricing based on service types, quantity, delivery locations, and offer exclusive discounts or loyalty rewards to attract and retain customers.
TOP-NOTCH FEATURES AND CAPABILITIES
Seamlessly Connect with Customers through Laundry App

Enhanced Customer Experience
With a mobile app, you can provide a convenient and user-friendly platform for your customers to access your laundry services. They can easily schedule pick-ups, make payments, and track their orders, resulting in a seamless and satisfying customer experience.

Increased Operational Efficiency
Automating various aspects of your laundry business through the app streamlines operations, reducing manual errors and saving time. Efficient order management, optimized routes for pick-up and delivery, and automated reminders help improve overall efficiency.

Business Growth and Expansion
By offering a mobile app, you position your laundry business as a modern and tech-savvy service provider. This not only helps attract new customers but also enhances your brand image, leading to increased customer loyalty and word-of-mouth referrals.

Data-driven Insights
Our app provides valuable analytics and reports that offer insights into customer preferences, popular services, and business performance. This data can guide your decision-making process, enabling you to make informed business decisions and drive growth.
Why Choose Us?
Let us help you build an exceptional fitness app that drives engagement, boosts user satisfaction, and takes your business to new heights.
About us
Webority Technologies
Over 10 years of delivering exceptional IT services globally. We've partnered with diverse clients from startups to large corporations across healthcare, finance, retail, tech and many more. Trust our proven expertise to cater to your unique business needs.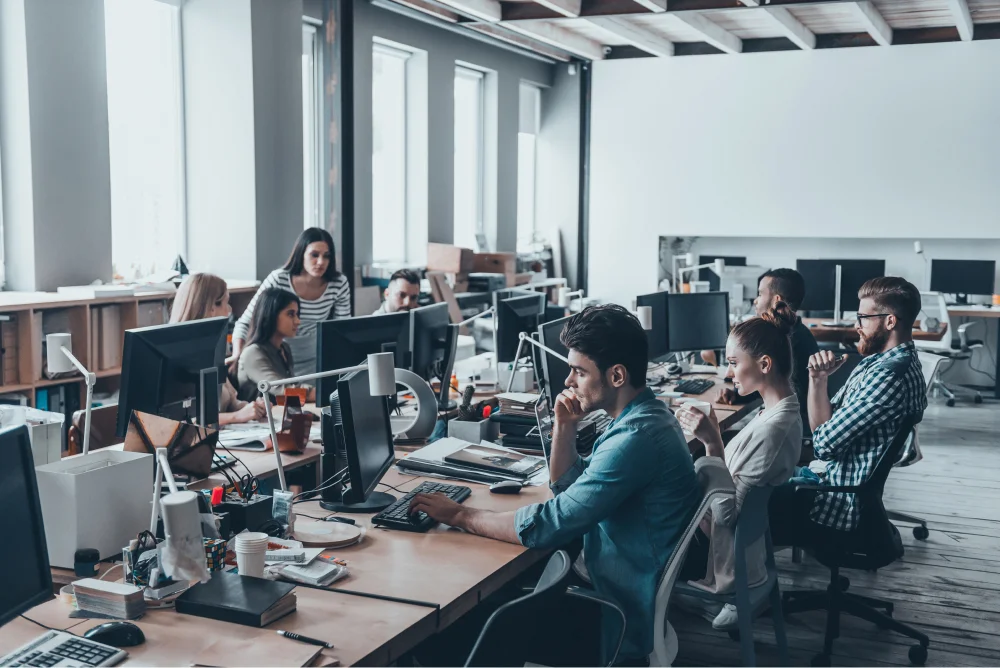 Connect with us today
Work with the Experts.