Furniture Store App Development Services
Revolutionizing the Way You Shop for Furniture
Webority Technologies is a leading company that offers superior furniture store app development services to meet your business needs. With our Furniture Store Platform, explore a world of furniture possibilities while embracing convenience. Finding the right furnishings for enhancing your living space might be difficult in today's fast-paced society. The anticipation of equipping your home can frequently be diminished by constantly wandering through real stores, having few options, and dealing with transportation and delivery issues.
Experience a revolutionary way of furniture shopping with our cutting-edge mobile app. Say goodbye to traditional constraints and welcome the digital age! Explore a vast selection of furniture from top brands and sellers, right at your fingertips. Enjoy unparalleled convenience as you research, compare, and buy furniture anytime, anywhere. With our app, you'll have access to the entire furniture market, making browsing and selecting items a breeze.
Discover a wide variety of furniture designs, styles, and materials, tailored to your unique taste. Whether you seek timeless charm or modern aesthetics, our platform has something for everyone. Save money while furnishing your home with our app's special offers, discounts, and seasonal reductions.
Enjoy a flawless buying experience with our feature-rich Furniture E-Commerce app. Utilize easy search and filter tools, receive personalized recommendations, and benefit from secure checkout and efficient order tracking. Join thousands of happy users who have unlocked a world of furniture possibilities. Download the app now and embark on your transformational journey to create the house of your dreams.
Let's create something great together
With Our Customised E-Commerce App, Boost Your Furniture Business!
Your one-stop solution for all furniture needs.
With Our Customised E-Commerce App, Boost Your Furniture Business!
Are you prepared to transform the furniture industry? Look nowhere else! You may put your store at the fingertips of your customers and open up amazing growth potential with the help of our cutting-edge technologies. Shopping Experience Simplified: Our talented team of designers and engineers works carefully to develop an app that provides a simple and straightforward shopping experience. We make sure that your clients can browse, choose, and buy furniture with the utmost convenience, from simple navigation to smooth functionality.
Beautiful Apps with World-class UI/UX
Explore and Purchase with Ease
Discover the Key Features of Our Furniture E-Commerce Mobile App
Intuitive User Interface
Our app boasts a user-friendly interface that is easy to navigate, ensuring a seamless and enjoyable shopping experience for customers.
Product Catalog
Display an extensive catalog of furniture products, showcasing high-quality images, detailed descriptions, and specifications for each item. Organize products into categories for effortless browsing.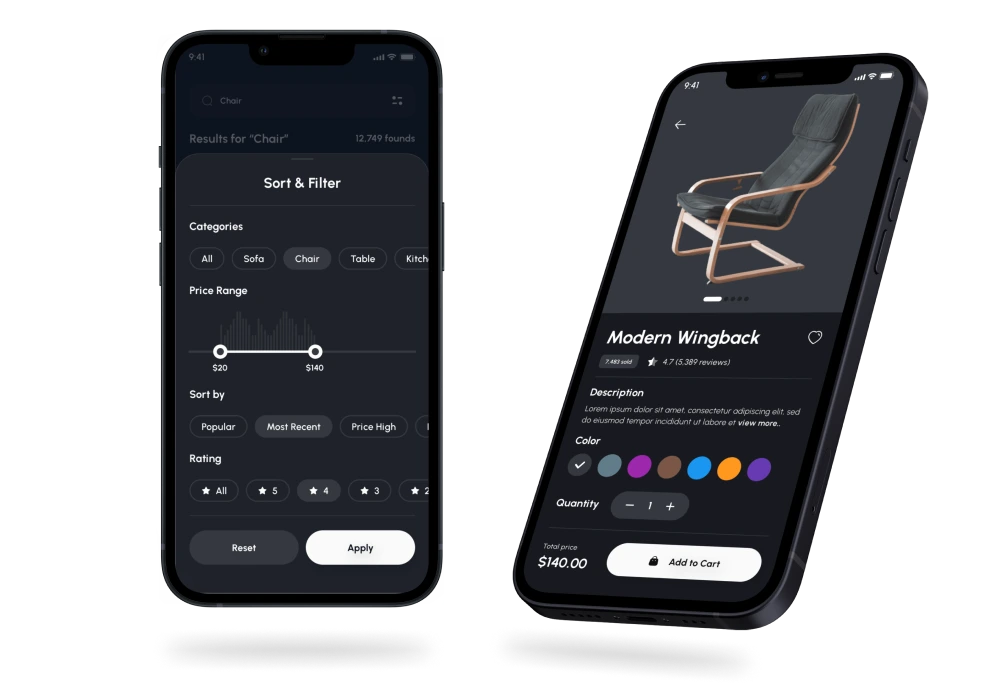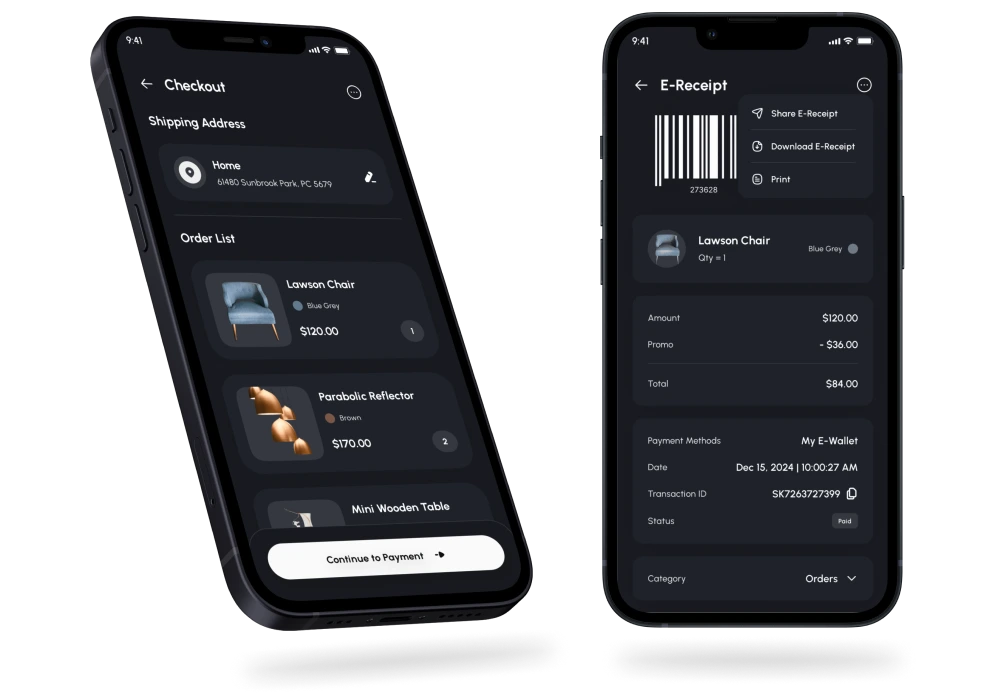 Advanced Search and Filters
Enable customers to find their desired furniture pieces quickly and efficiently with advanced search and filter options. They can search by keywords, categories, styles, sizes, materials, and more.
Personalized Recommendations
Utilize AI algorithms to provide personalized recommendations based on customer preferences, browsing history, and purchase behaviour. This feature enhances customer engagement and encourages additional purchases.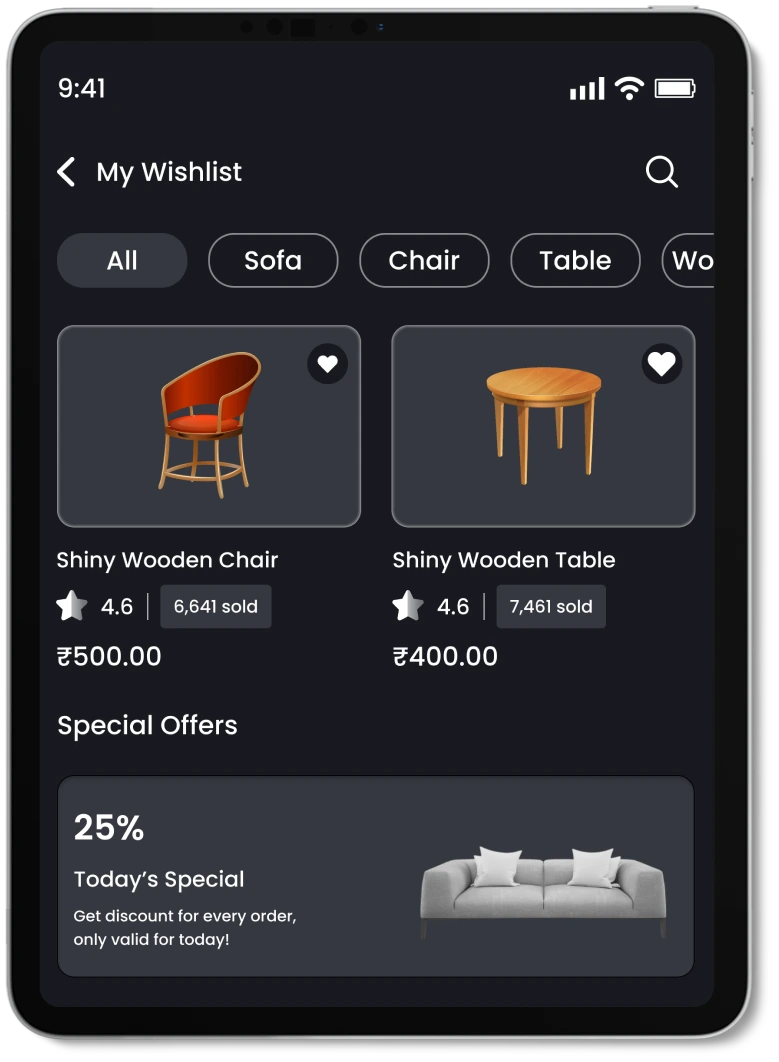 Revamp. Reimagine. Redefine. Furniture
Time-Saving Shopping: Shop Furniture Anytime, Anywhere
Unlock the Benefits of Our Furniture E-Commerce Mobile App Solution
Competitive Edge
Stay ahead of the competition by embracing mobile technology. With a dedicated app, you demonstrate your commitment to innovation and offer a modern shopping experience, setting yourself apart from competitors who may rely solely on traditional brick-and-mortar stores.

Brand Visibility and Recognition
Increase your brand visibility by having a presence on customers mobile devices. Your app icon serves as a constant reminder of your brand, keeping you at the forefront of customers' minds when they are ready to shop for furniture.

Seamless Integration with Existing Systems
Our app development solution seamlessly integrates with your existing website, back-end systems, and third-party tools. This ensures a smooth transition and minimizes disruptions to your business operations.

Scalability and Future Growth
Our app is designed to grow with your business. It is scalable and adaptable, allowing for easy integration of new features, updates, and expansions as your furniture e-commerce business evolves.
Why Choose Us?
With our comprehensive expertise, personalized approach, user-centric design, reliable solutions, seamless integration, and unwavering support, we are the ideal choice for your furniture store app development needs. Elevate your business to new heights with a high-quality and feature-packed app that attracts and retains customers.
About us
Webority Technologies
Over 10 years of delivering exceptional IT services globally. We've partnered with diverse clients from startups to large corporations across healthcare, finance, retail, tech and many more. Trust our proven expertise to cater to your unique business needs.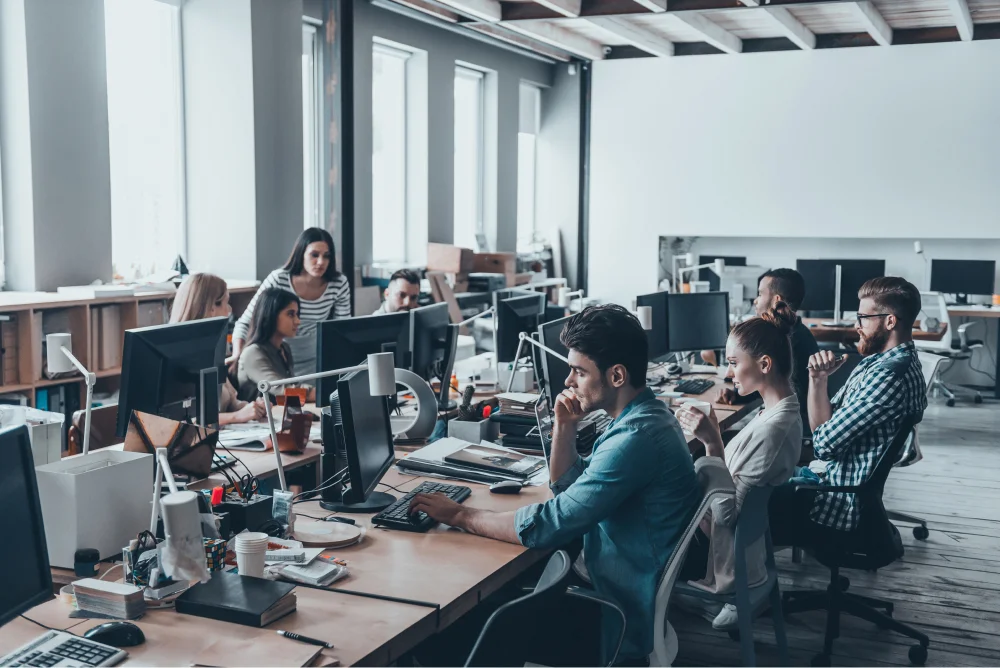 Connect with us today
Work with the Experts.