Flight Booking App Development Services Company
Elevate Your Travel Business with a High-Flying Flight Booking App!
Webority Technologies, a leading Flight booking app development services company, offers superior flight booking app development services to meet your business needs. In today world, travel has become an integral part of our lives, whether for business or leisure. The flight booking industry serves as a crucial connector, providing individuals with the convenience and efficiency of booking flights to their desired destinations.
However, as the number of travellers continues to rise and flight schedules become increasingly complex, businesses in this industry must adapt and embrace technology to stay competitive.
A flight booking mobile app has the power to revolutionize the way your business operates, offering a multitude of benefits. One of the key advantages is an enhanced customer experience. With a mobile app, users can easily search for flights based on their preferences, including destination, dates, and budget. Real-time flight availability and pricing information enable customers to compare options and make secure bookings with just a few taps on their mobile devices. The personalized features within the app, such as saving travel preferences and frequent flyer information, add an extra layer of convenience and streamline the booking process for frequent travellers.
Additionally, a flight booking mobile app significantly increases efficiency and productivity for your business. By automating processes such as flight availability updates, booking confirmations, and payment transactions, your staff can focus on providing exceptional customer service and handling more complex tasks. This streamlined approach improves operational efficiency, saving time and resources while ensuring a seamless booking experience for customers.
Furthermore, a flight booking mobile app opens up new opportunities for revenue generation. You can expand your services beyond flight bookings by incorporating features such as hotel and car rental bookings, travel insurance options, and loyalty programs.
Let's create something great together
INTUITIVE BOOKING EXPERIENCE
The Need for Flight Booking App Development
Gone are the days when travelers had to stand in long queues or rely on travel agents to book their flights. Traditional booking methods were often time-consuming and inconvenient. However, with the rise of flight booking app development service company, the entire process has been streamlined, putting the power of planning in the hands of users. These apps offer a one-stop platform for travelers to search, compare, and book flights instantly.
The demand for flight booking apps has been steadily increasing due to the numerous advantages they offer. For users, it means the convenience of booking flights at any time, from anywhere. Airlines, on the other hand, benefit from reduced operational costs and the ability to reach a wider audience.
Beautiful Apps with World-class UI/UX
Experience the Power of Feature-Rich Solutions
Effortless Booking Made Simple
Intuitive and User-Friendly Interface
Delight in a seamless user experience with our app's visually appealing and easy-to-navigate interface, simplifying the flight search and reservation process effortlessly.
Real-Time Flight Updates
Stay ahead of the game by seamlessly integrating real-time flight information, ensuring customers receive accurate updates for a stress-free travel experience.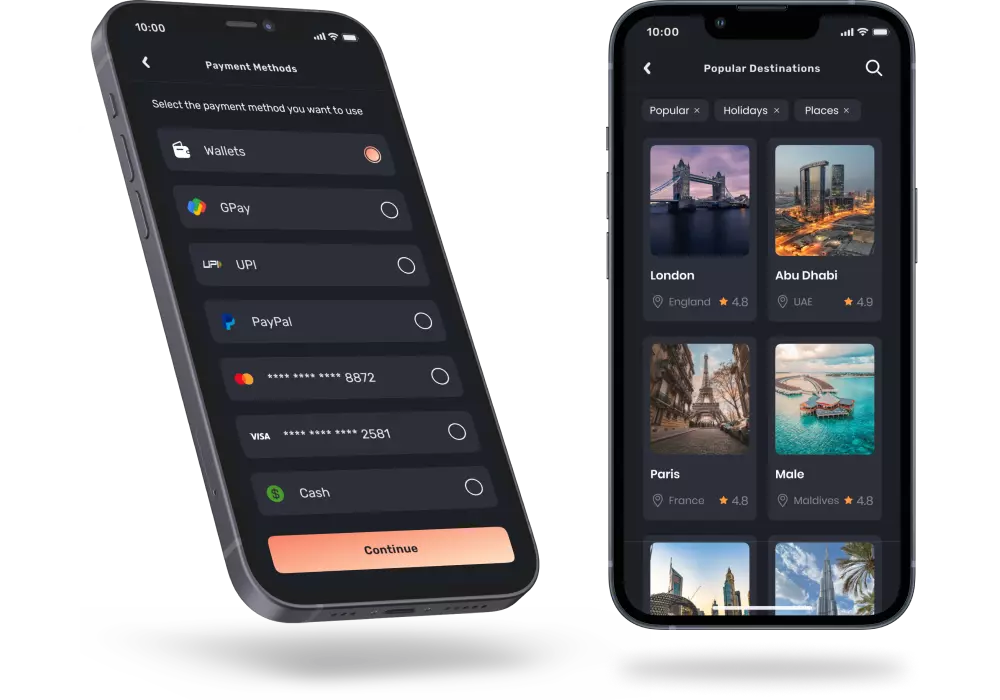 Flexible Payment Options
Enhance convenience and cater to diverse customer needs with our app's extensive range of payment methods, including credit cards, debit cards, net banking, and digital wallets.
Personalized Flight Recommendations
Elevate customer satisfaction and foster loyalty with tailored flight suggestions based on individual preferences, travel history, and previous bookings, driving conversions and customer engagement.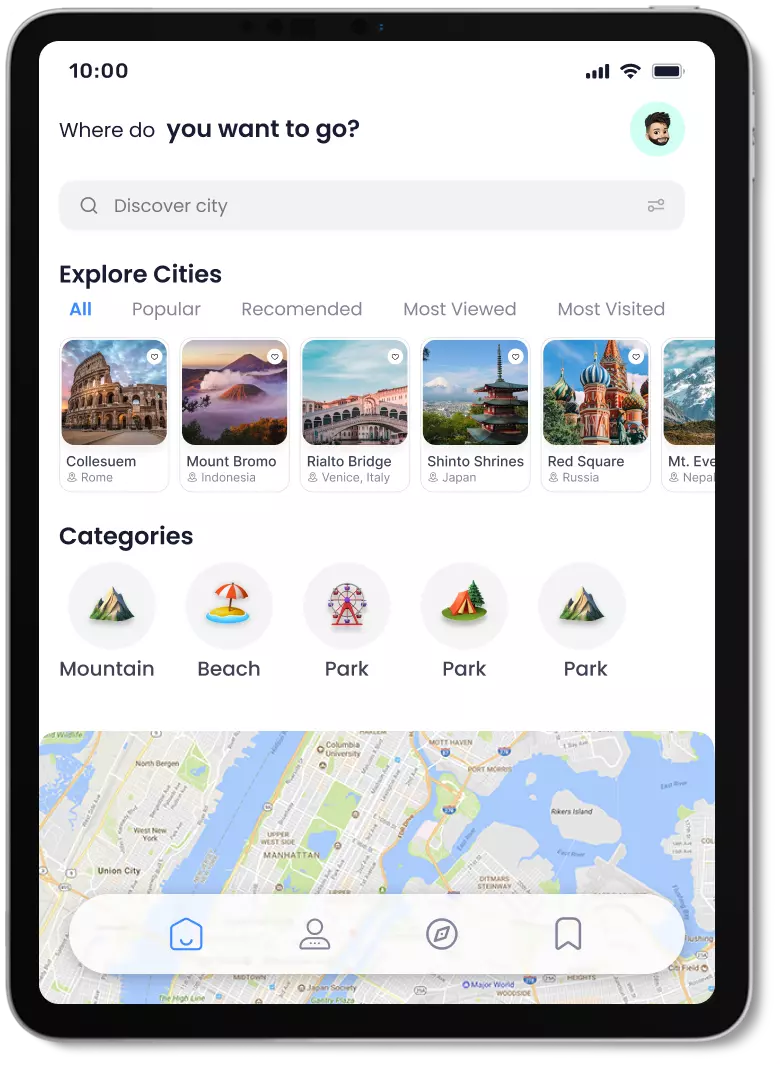 Enhance Your Booking Experience
REDEFINING THE NORM
Explore Endless Possibilities for Your Business

Enhanced Customer Experience
Elevate your customers' journey by seamlessly booking flights through our user-friendly app, providing a hassle-free experience without the need for time-consuming calls or browsing.

Brand Loyalty and Trust
Cultivate brand loyalty and trust by offering a reliable flight booking platform that distinguishes your business from competitors, ensuring repeat customers and positive word-of-mouth.

Streamlined Operations
Streamline operations with our app's automated processes, reducing errors and gaining valuable insights through advanced analytics, optimizing efficiency and enhancing productivity.

Growth and Scalability
Drive revenue growth and expand your reach with a mobile app that attracts smartphone users, enabling personalized offers and driving repeat bookings for sustainable scalability.
Why Choose Us?
Choosing us for your flight booking app development means collaborating with a team that values innovation, reliability, and customer satisfaction.
About us
Webority Technologies
Over 10 years of delivering exceptional IT services globally. We've partnered with diverse clients from startups to large corporations across healthcare, finance, retail, tech and many more. Trust our proven expertise to cater to your unique business needs.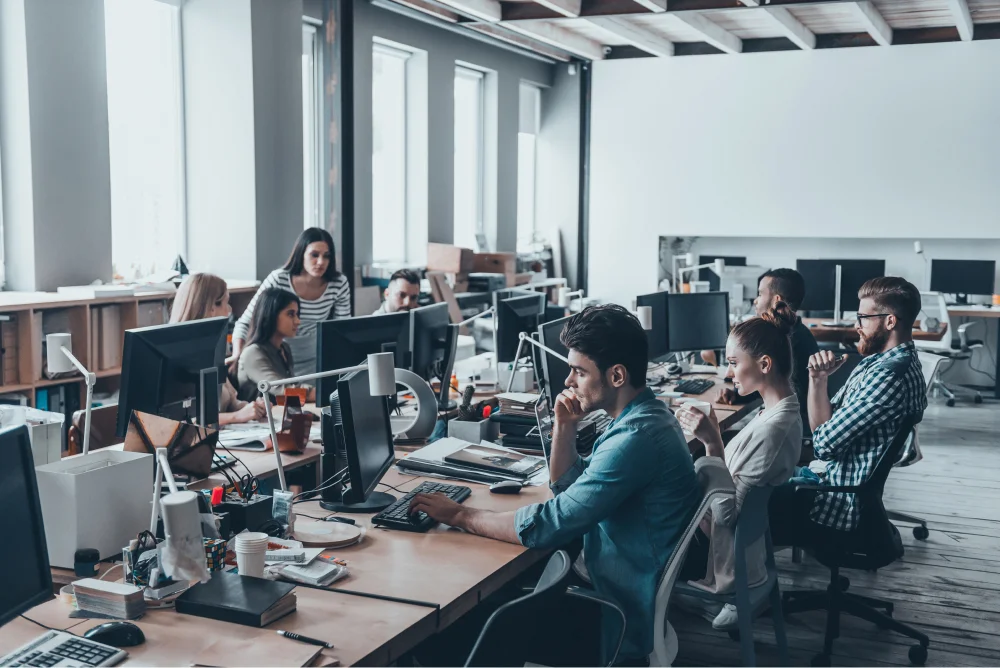 Connect with us today
Work with the Experts.