Fitness Tracker App Development Services Company
Stay on Top of Your Fitness Game: Build Your Ultimate Tracker App
Achieve your fitness goals with our cutting-edge and user friendly fitness tracker app development services company. The fitness tracker industry has transformed the way we approach our health and wellness, offering a range of benefits and features that empower individuals to take control of their physical activities. Our app combines advanced technology with user-friendly interfaces to provide a seamless experience, whether you're an athlete striving for peak performance or someone simply looking to lead a more active lifestyle.
With our fitness tracker app, you can effortlessly track your steps, distance traveled, and calories burned throughout the day. Set personalized goals and receive real-time updates on your progress, keeping you motivated and accountable every step of the way.
Whether you're walking, running, or cycling, our app leverages GPS technology to accurately monitor your outdoor activities and provide detailed insights into your performance. One of the key advantages of our fitness tracker app is its ability to monitor heart rate. By syncing with compatible devices, you can keep a close eye on your heart rate during workouts, ensuring you're hitting the right intensity levels for optimal results.
Understanding your heart rate patterns can help you make informed decisions about your training, allowing you to adjust your workout intensity and duration accordingly. In addition to activity tracking, our app also offers a comprehensive suite of features to support your overall fitness journey.
Access a vast library of workout plans designed by fitness experts, ranging from beginner-friendly routines to advanced training programs. Follow guided workouts with video demonstrations and detailed instructions, ensuring proper form and technique. Keep a record of your exercise history and progress over time, helping you identify trends, celebrate milestones, and push yourself further. Sharing your achievements and connecting with others is another key aspect of our fitness tracker app.
Let's create something great together
Your Ultimate Tracking Solution for Goal Achievement
Your all-in-one fitness tracking solution for achieving your goals
Transform your fitness tracker business with our expert mobile app development services. In today's digital age, a mobile app is essential for staying ahead in the competitive fitness industry. Our team of experienced developers specializes in creating customized, feature-rich fitness tracker apps that will take your business to new heights. We are aware of the particular requirements of the fitness tracker industry. Our mobile app solutions are made to improve client engagement, optimise processes, and enhance the user experience. We make certain that your app stands out from the competition and provides excellent value to your consumers by using the most recent technology and industry standards.
Beautiful Apps with World-class UI/UX
Discover the Key Features of Our fitness tracker Mobile App
Key Feature Showcase: Discover and Explore
Activity Tracking
Enable users to track their physical activities, such as steps taken, distance travelled, and calories burned. This feature can utilize device sensors or integrate with wearable fitness trackers.
Workout Plans and Programs
Provide users with pre-designed workout plans and programs created by fitness experts. These plans can cater to different fitness levels and goals, including strength training, cardio, yoga, and more.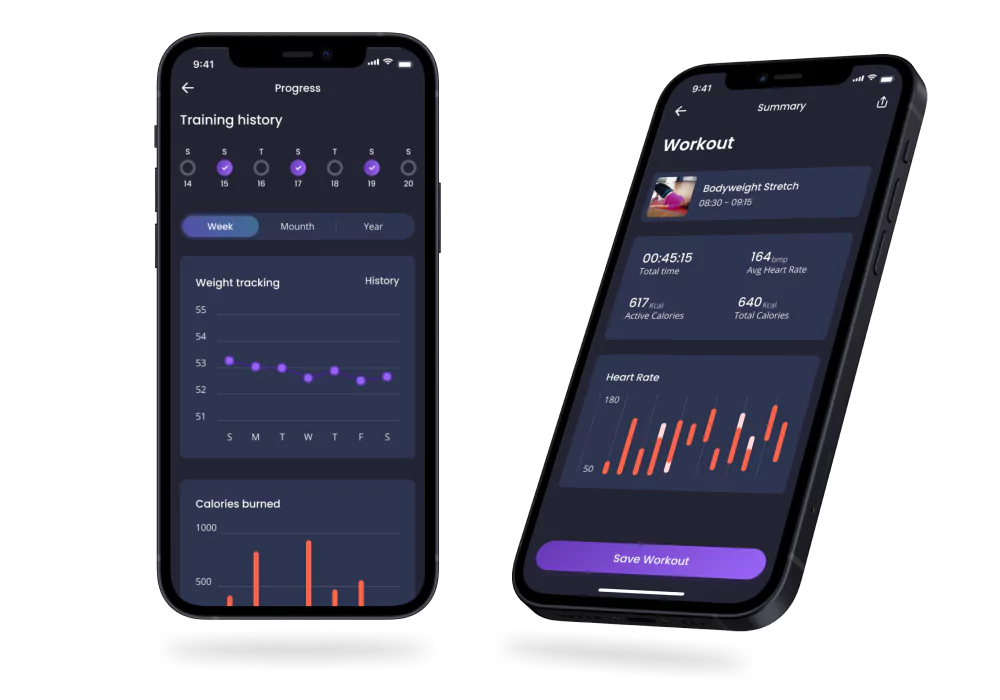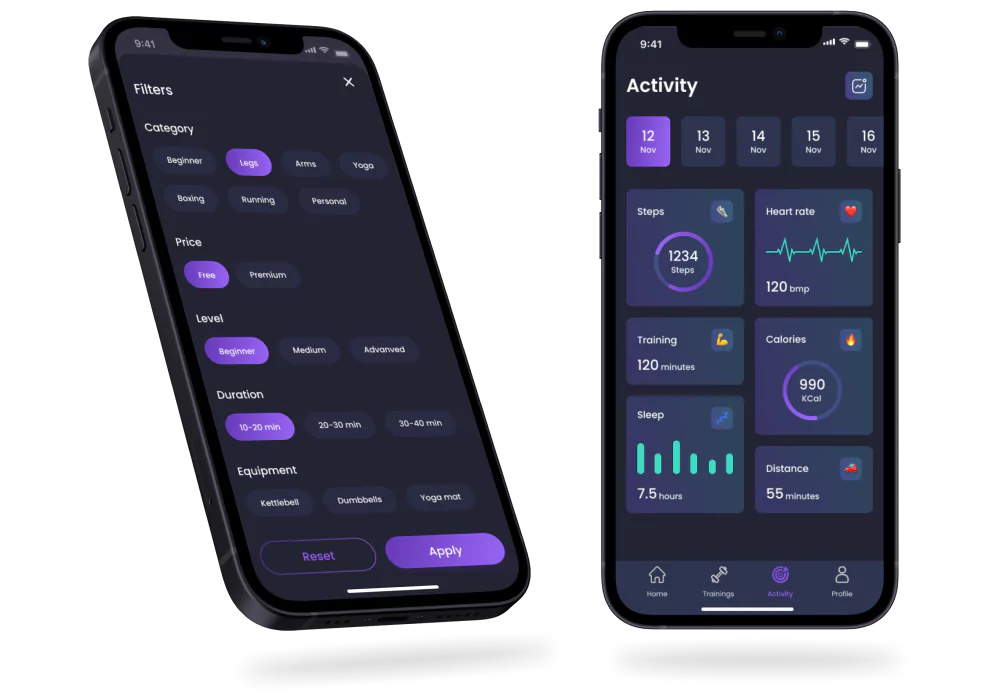 Goal Setting and Progress Tracking
Enable users to set health and wellness goals, such as weight loss, muscle gain, or completing a certain number of workouts per week. Track progress, offer reminders, and celebrate milestones to keep users motivated.
Guided Meditation and Relaxation
Offer guided meditation sessions, breathing exercises, and relaxation techniques to help users manage stress, improve focus, and promote overall mental well-being.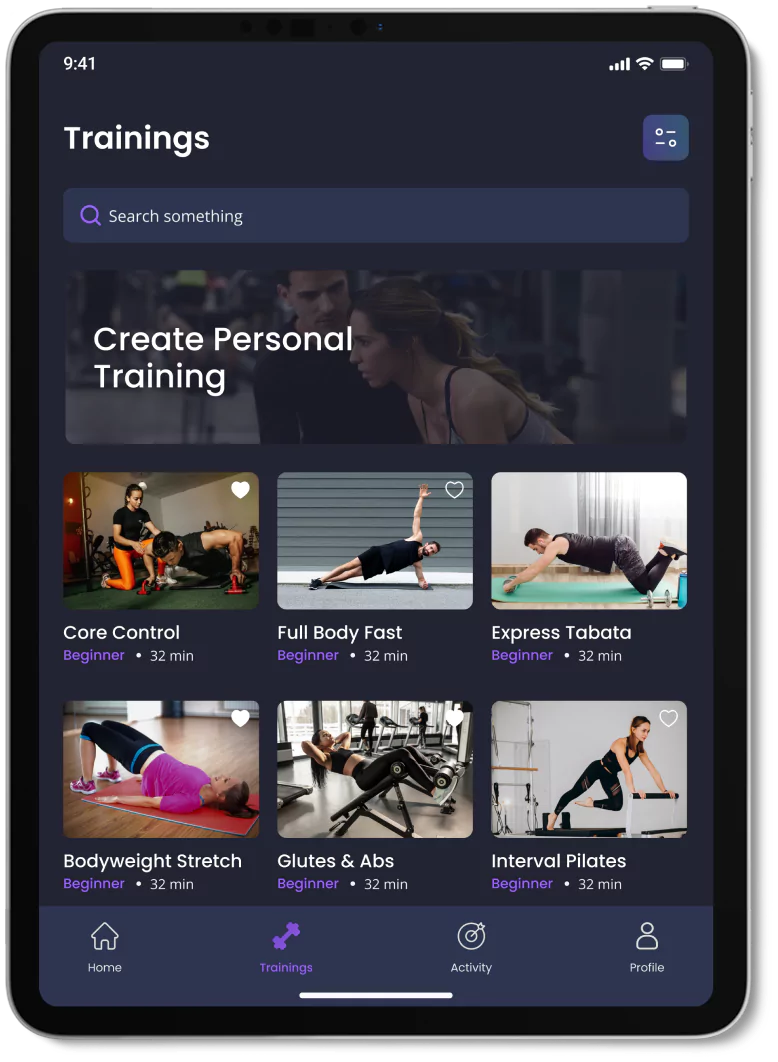 Fitness at Your Fingertips
App Perks Unleashed: Competitive Edge
Harness the Competitive Edge: Key Benefits of Our Fitness Tracker Mobile App
Brand Differentiation and Competitive Edge
In a crowded fitness market, having a dedicated mobile app sets clients apart from their competitors. By offering a comprehensive fitness tracking solution, clients position themselves as industry leaders, attracting new customers and gaining a competitive edge over businesses without a mobile app presence.

Scalability and Customizability
Our fitness tracker app is designed to adapt and grow with the client's business. Whether they have a small user base or a rapidly expanding customer segment, the app's architecture allows for scalability without compromising performance. Additionally, the app's customizable features and branding ensure a unique and tailored experience for the client's specific target audience.

Increased Customer Retention
With a fitness tracker app, clients can provide added value to their customers, encouraging long-term loyalty. By offering comprehensive tracking, workout plans, and personalized recommendations, the app becomes an indispensable tool that users rely on, fostering a lasting relationship with the brand.

Seamless Communication and Support
The app facilitates direct and seamless communication between clients and their users. It enables push notifications, personalized messages, and in-app support, ensuring effective communication channels and timely assistance.
Why Choose Us?
Choose us to bring your fitness tracker app idea to life. Our expertise, user-centric approach, and commitment to excellence set us apart in the world of health and wellness app development.
About us
Webority Technologies
Over 10 years of delivering exceptional IT services globally. We've partnered with diverse clients from startups to large corporations across healthcare, finance, retail, tech and many more. Trust our proven expertise to cater to your unique business needs.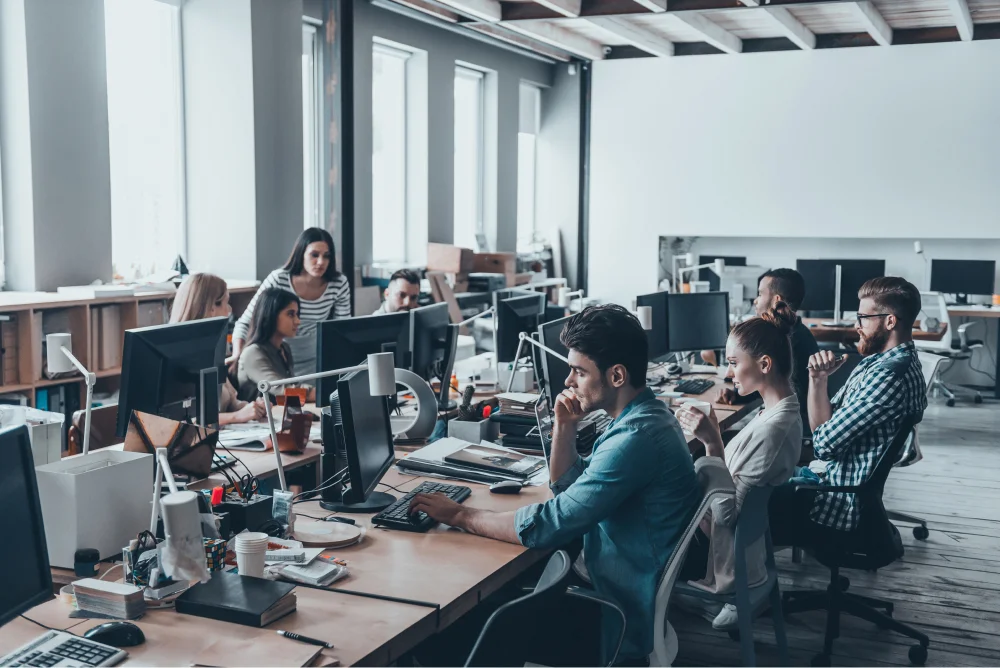 Connect with us today
Work with the Experts.