Fitness Mobile App Development Services Company
Revolutionize Your Experience with Fitness App
Webority Technologies, a leading fitness mobile app development services company, offers superior fitness app development services to meet your business needs. Where smartphones have become an integral part of our lives, fitness app development has gained immense popularity. With people becoming more health-conscious and seeking convenient solutions to stay fit, fitness apps have emerged as a powerful tool to help individuals achieve their fitness goals.
Explore the world of fitness app development, highlight the key considerations for developing such apps, and shed light on the top fitness app development companies and their services.
To stand out in this crowded marketplace, embracing technology and leveraging its potential is essential. It provides a digital platform to connect with clients, enhance their fitness experience, and streamline operations like never before.
At Webority Technologies, we specialize in developing fitness mobile apps that are tailor-made to meet the specific needs of your gym or fitness business. Our team of skilled developers and designers will work closely with you to understand your objectives, brand identity, and target audience, creating a custom solution that aligns perfectly with your vision.
One of the key benefits of a fitness mobile app is its ability to attract and retain clients. With the app, you can showcase your gym's facilities, services, and trainers, giving potential clients a glimpse into what sets you apart from the competition. Providing easy access to class schedules, personal training sessions, and workout programs makes it convenient for clients to engage with your gym anytime, anywhere. This level of accessibility and convenience is a significant factor in attracting new clients and keeping them committed to their fitness journey.
Let's create something great together
ACHIEVE FITNESS EXCELLENCE
Experience the Excellence App Development Services
The workout industry, also known as the fitness industry, has experienced a remarkable surge in recent years, becoming a major global force. It encompasses a wide range of businesses and activities focused on promoting physical fitness, strength, endurance, and overall well-being. From traditional gymnasiums and fitness centers to boutique studios, personal training services, online platforms, and wearable technology, the workout industry offers a plethora of options for individuals seeking to improve their fitness levels.
Beautiful Apps with World-class UI/UX
UNLEASH YOUR POTENTIAL
Cutting-Edge Features Designed for Workouts
Personalized Training Programs
Our workout mobile app allows you to offer personalized training programs to your clients based on their fitness goals, preferences, and fitness level. With the ability to customize workouts and track progress, your clients will be motivated and engaged like never before.
Exercise Library
We provide a comprehensive exercise library within the app, featuring a vast collection of exercises with detailed instructions and videos. This empowers your clients to perform exercises with proper form and technique, reducing the risk of injuries and maximizing the effectiveness of their workouts.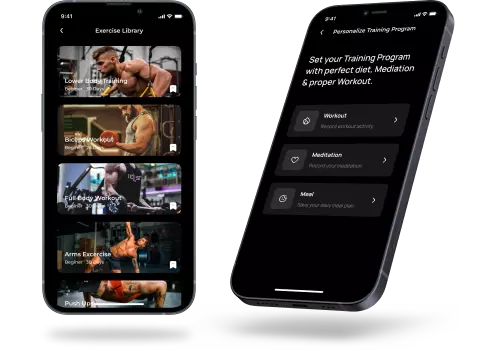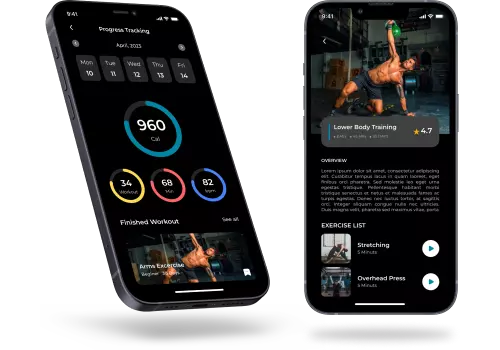 Class Scheduling and Booking
Simplify the process of managing classes and appointments with our intuitive scheduling and booking system. Clients can easily view and book available classes or personal training sessions directly from the app, enhancing convenience and ensuring optimal utilization of your gym's resources.
Progress Tracking and Analytics
Our workout mobile app enables clients to track their progress, set fitness goals, and monitor key metrics such as weight, body measurements, and workout statistics. With built-in analytics, both you and your clients can gain valuable insights to make informed decisions and optimize training programs.
BOOST YOUR SUCCESS WITH A CUSTOM APP
Pioneering Features and Next-Level Capability

Enhanced Client Engagement
By offering a feature-rich workout mobile app, you can engage and motivate your clients even outside of the gym. From personalized training programs to progress tracking, the app keeps clients connected and committed to their fitness journey.

Increased Retention and Loyalty
A mobile app boosts customer loyalty by providing exclusivity and convenience. It enables direct communication with clients for reminders, promotions, and personalized recommendations, keeping them engaged and less likely to switch to a competitor.

Streamlined Operations
Save time and resources with our workout app. It simplifies administrative tasks like class scheduling, membership management, and payments. Automating these processes allows you to prioritize delivering an exceptional fitness experience to your clients.

Competitive Edge
Stand out in the digital era with our workout mobile app. Showcase your gym as modern and tech-savvy, demonstrating innovation and superior service. Attract new customers and retain existing ones with your commitment to providing the best fitness experience.
Why Choose Us?
Let us help you build an exceptional fitness app that drives engagement, boosts user satisfaction, and takes your business to new heights.
About us
Webority Technologies
Over 10 years of delivering exceptional IT services globally. We've partnered with diverse clients from startups to large corporations across healthcare, finance, retail, tech and many more. Trust our proven expertise to cater to your unique business needs.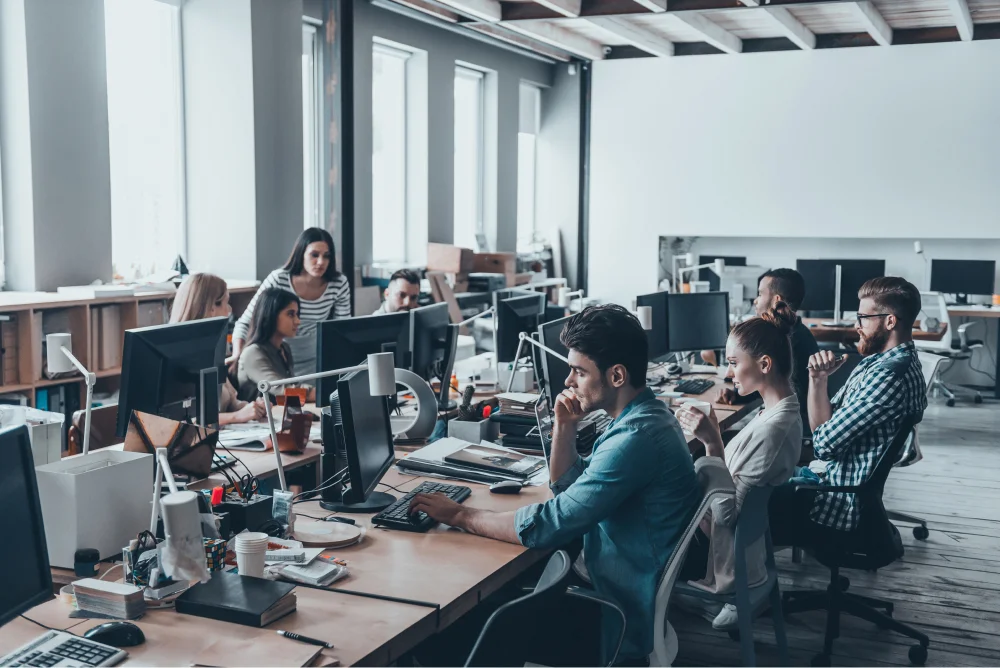 Connect with us today
Work with the Experts.