Revolutionize Your Business with Cutting-Edge Cycling App
Must-Have Cycling App for Every Bike Enthusiast
In the fast-paced world of bicycle apps, staying ahead of the competition and engaging your target audience requires innovative solutions that enhance the overall experience.
At Webority Technologies, we specialize in developing customized mobile apps specifically designed for the cycling industry. Our team of experts is dedicated to helping cycling businesses like yours reach new heights of success through cutting-edge mobile technology.
Our cycling app solutions are tailored to meet the unique needs of your cycling business, providing a seamless platform for your customers to explore, interact, and make the most of their cycling journey.
Whether you own a bike shop, organize cycling events, offer rental services, or manage a cycling community, our mobile apps are designed to revolutionize the way you connect with your customers and drive growth.
With our mobile apps, your customers will enjoy a user-friendly interface and intuitive navigation that simplifies their interactions. From browsing and booking services to exploring cycling routes and tracking their progress, we optimize every step to ensure a hassle-free experience.
Our goal is to make it effortless for your customers to engage with your business, fostering a strong and lasting connection. One of the key advantages of our mobile apps is the ability to enhance community engagement.
We understand the importance of building a vibrant cycling community, and our apps include features that promote interaction, sharing, and collaboration among cyclists.
From group rides and challenges to social media integration, we create a platform that fosters a sense of camaraderie and motivates your customers to stay active.
Our mobile app solutions also empower you to streamline your operations and provide personalized services. From bike rental reservations and maintenance reminders to customized training plans and progress tracking, we integrate advanced features that cater to the unique needs of your cycling business.
Let's create something great together
RIDE TO SUCESS
Unparallel expertise in Cycling Mobile App Solutions
In today's dynamic world, the cycling industry is thriving like never before. Cycling has evolved from a simple means of transportation to a lifestyle embraced by people of all ages and backgrounds. Whether it's the thrill of conquering challenging terrains, the joy of exploring new destinations on two wheels, or the health and environmental benefits associated with cycling, the industry continues to attract enthusiasts worldwide.
Beautiful Apps with World-class UI/UX
FEATURES THAT DEFINE
Embark on a Thrilling Cycling Journey with Incredible App Features
Customizable Scheduling
Seamlessly plan and organize cycling events that perfectly align with your preferred time, date, and route specifications, ensuring a personalized experience for you and your fellow cyclists.
QR Scanner
Effortlessly secure your preferred bicycle by swiftly scanning the QR code displayed on the bike or within the app, streamlining the booking process and saving you valuable time.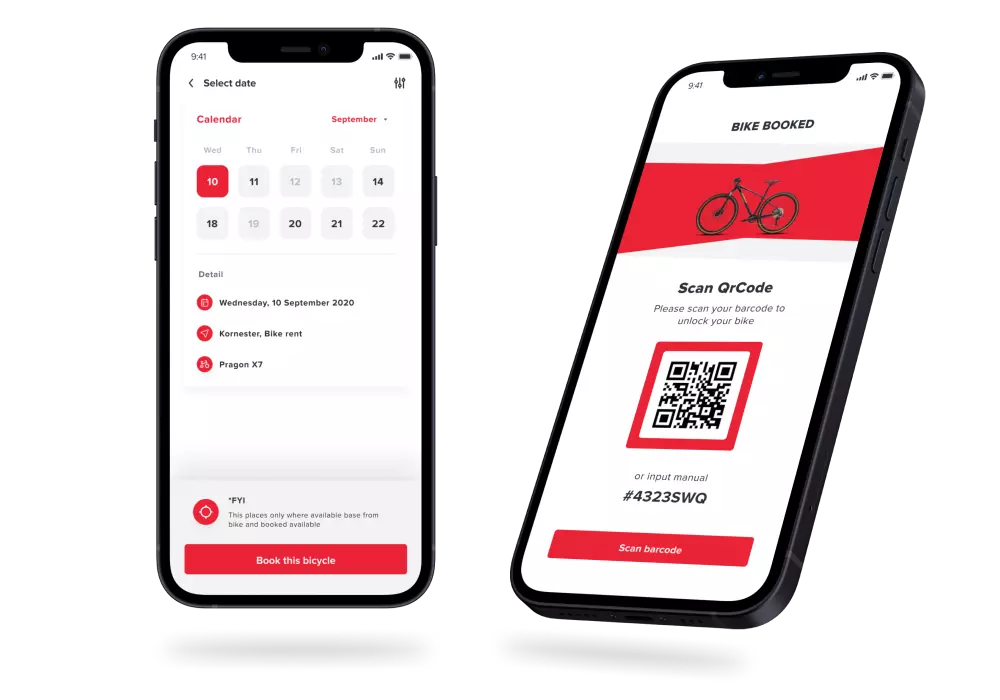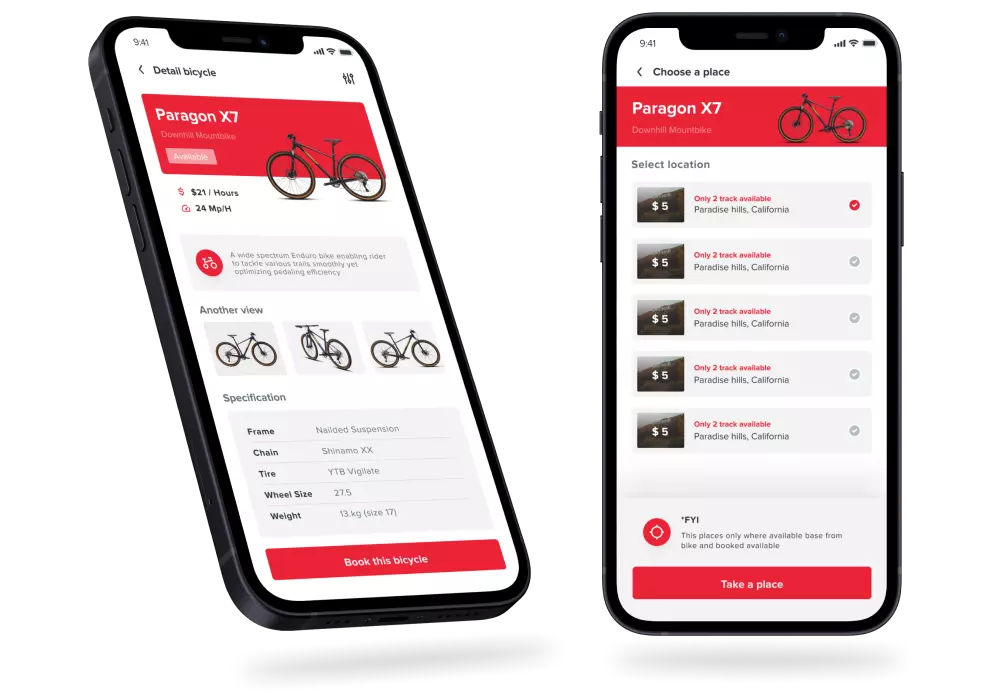 Personalized Bike Selection
Enjoy the freedom of choice as you explore a diverse range of bicycles, carefully considering your specific preferences such as bike type, size, features, and pricing options, ensuring a comfortable and tailored cycling experience.
Destination Selection
Unlock a world of possibilities as you discover and select from an array of captivating cycling destinations, empowering you to curate your ideal cycling route and embark on unforgettable adventures in the location of your choosing.
GROW YOUR BUSINESS
Cycling Journey with These App Advantages

Personalized User Experience
A cycling app offers personalized experiences to businesses' customers with customized training plans, route suggestions, and user preference tracking, ensuring users feel valued and receive tailored recommendations and services.

Data-Driven Insights
Mobile apps provide valuable user data and insights for cycling businesses. Analyzing this data helps optimize offerings, make informed decisions, and create targeted marketing campaigns. It leads to better customer satisfaction, increased conversions, and improved business strategies.

Competitive Advantage
A mobile app gives cycling businesses a competitive edge, showcasing innovation, customer service, and convenience. Unique features and a seamless user experience help them stand out and attract more customers in the industry.

Brand Loyalty and Retention
A well-designed app boosts customer loyalty and retention by offering convenience, engaging the cycling community, and enabling progress tracking. This fosters strong customer relationships, leading to repeat business and positive recommendations.
About us
Webority Technologies
Over 10 years of delivering exceptional IT services globally. We've partnered with diverse clients from startups to large corporations across healthcare, finance, retail, tech and many more. Trust our proven expertise to cater to your unique business needs.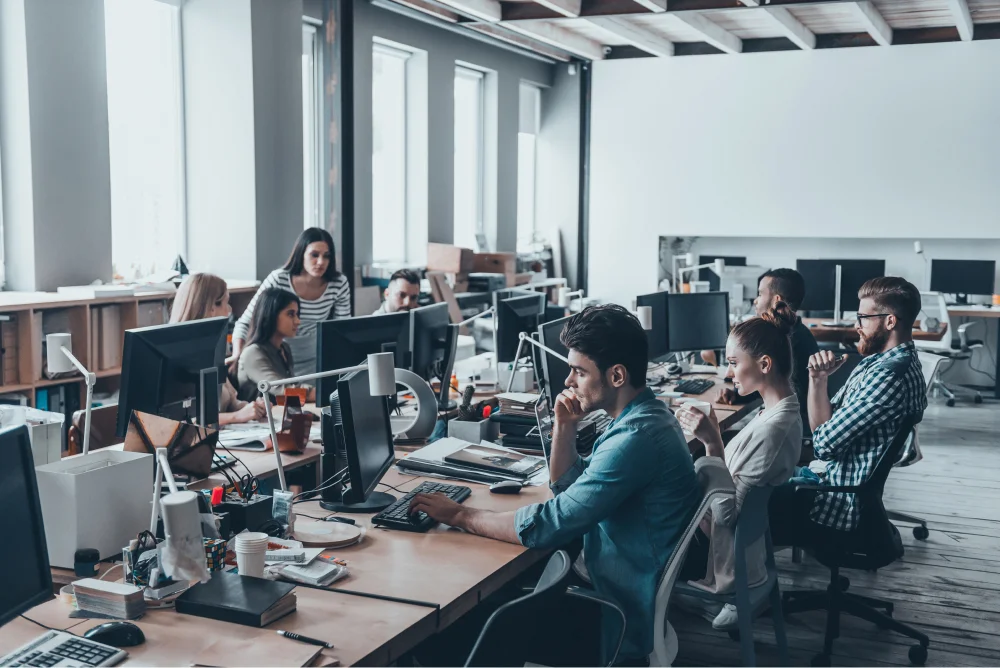 Connect with us today
Work with the Experts.