Car Parking App Development Services Company
Efficiency, Revenue, and Customer Delight in One App
Webority Technologies is a leading company that offers superior car parking app development services to meet your business needs. In an increasingly crowded and fast-paced world, the parking industry faces a multitude of challenges. Limited parking space, outdated management systems, and the need for seamless user experiences are just a few of the hurdles that parking facilities encounter daily. That's where our cutting-edge mobile app development solutions come in.
The development of a car parking application tackles one of the most prevalent issues in urban traffic. The search for available parking spaces and the management of unauthorized parking.
To exemplify, drivers expend approximately 17 hours annually scouring for vacant spots, resulting in a cost of $345 per driver in terms of wasted time, fuel, and increased vehicle emissions.
Given the continuously increasing number of vehicles, parking capacity remains restricted, posing difficulties in locating unoccupied spots. In light of these factors, inquiries regarding the construction of a parking app arise frequently, considering the projected market expansion from 2021 to 2031, anticipated to have a compound annual growth rate (CAGR) exceeding 17%.
This is precisely where parking software development emerges as a savior. This article by Webority Technologies will delve into the process of crafting a parking app and explore the optimal approaches to foster business expansion through it.
Let's create something great together
Revolutionize Parking with Our Innovative App
Simplify Parking with a Cutting-Edge Mobile App
In the fast-paced world of parking management, embracing technology is crucial to stay ahead of the competition. We specialize in developing cutting-edge mobile apps tailored specifically for the parking industry. With our expertise and innovative solutions, we can revolutionize your parking business and provide a seamless user experience. Our custom mobile apps offer a range of features designed to optimize your parking operations and enhance customer satisfaction. Users will benefit from a user-friendly interface that enables them to effortlessly find available parking spaces, reserve spots in advance, and receive real-time notifications on availability and pricing. By providing convenience and eliminating the hassle of searching for parking, your customers will enjoy a stress-free parking experience that keeps them coming back.
Beautiful Apps with World-class UI/UX
Innovative Features at Your Fingertips
Discover the Power of Our Mobile App
Real-Time Parking Availability
Our app provides users with up-to-date information on parking availability in their desired areas. Users can view the number of available parking spots in real-time, minimizing the time spent searching for a space.
Reservation and Booking
With our app, users can reserve parking spots in advance. They can select their preferred date, time, and duration, ensuring a guaranteed parking space upon arrival. This feature is especially beneficial during peak hours or for special events.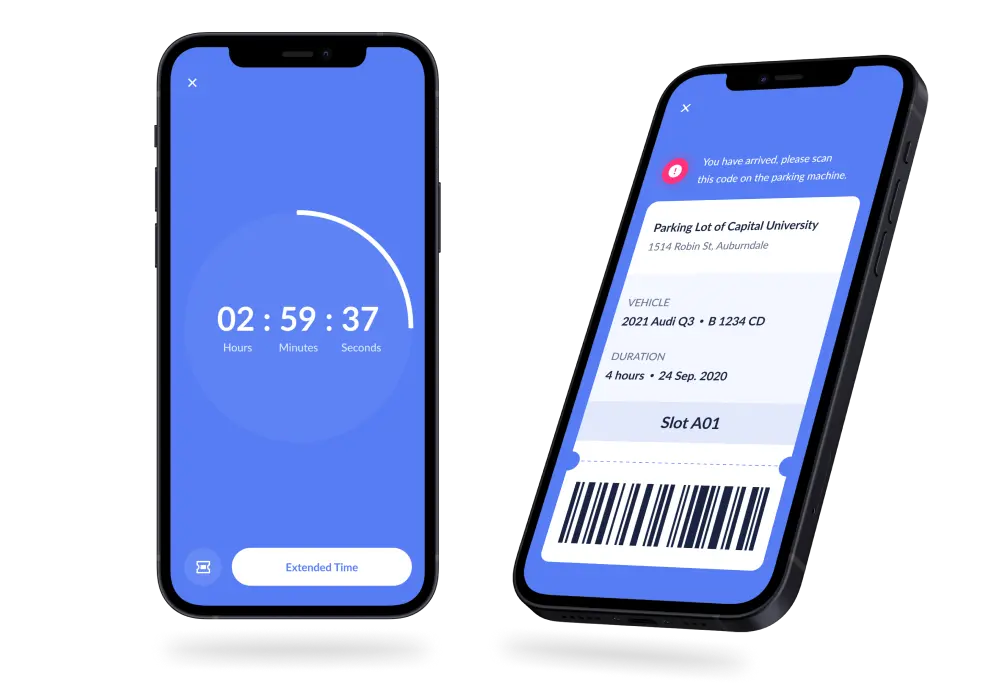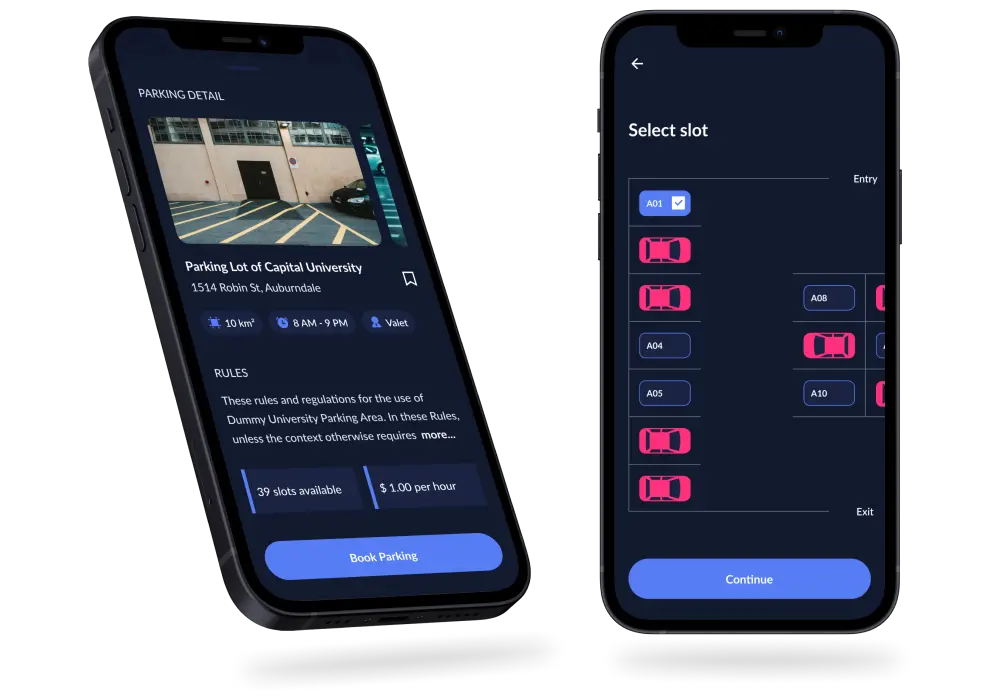 Mobile Payment and Digital Tickets
Users can conveniently pay for parking fees through the app using mobile payment methods, eliminating the need for cash transactions. Digital tickets can be displayed on the app, eliminating the need for physical tickets or paper receipts.
User Reviews and Ratings
The app allows users to share their parking experiences, providing valuable insights and ratings for other users, helping them make informed decisions and choose reliable parking options.
Maximize Client Benefits
Unleash the Power of Our Parking Mobile App
Streamlined Parking Management
The app provides clients with a comprehensive platform to efficiently manage parking operations, including user management, payment processing, and data analytics.

Increased Revenue Generation
By offering convenient in-app payment options and attracting more users through enhanced parking experiences, clients can significantly increase their revenue potential.

Enhanced User Experience
The app enhances the overall parking experience for users with features like real-time availability, booking and reservation options, navigation assistance, and digital tickets, ensuring a seamless and convenient parking process.

Increased Visibility and Market Reach
Launching a parking app enables clients to expand their market reach and attract new customers, positioning themselves as modern and innovative parking providers in a competitive landscape.
Why Choose Us?
In the realm of car parking app development, our expertise sets us apart. Here's why you should opt for our services. Choosing us for your car parking app development means choosing innovation, reliability, and a commitment to driving your success.
About us
Webority Technologies
Over 10 years of delivering exceptional IT services globally. We've partnered with diverse clients from startups to large corporations across healthcare, finance, retail, tech and many more. Trust our proven expertise to cater to your unique business needs.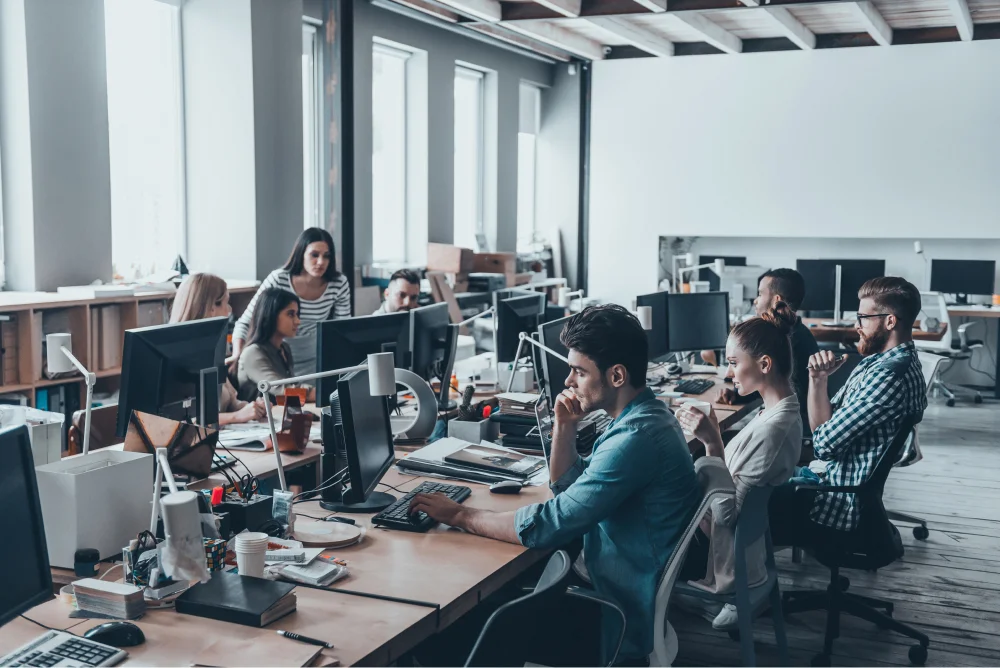 Connect with us today
Work with the Experts.